A new airport terminal is scheduled to open in the latter part of this year.
Despite Thailand's decision to close the country's borders to international tourists in March 2020, Krabi Airport handled more than one million domestic travelers last year. Outside of Bangkok, the destination ranked fifth in the country in terms of airport passenger traffic.
While hoteliers anticipate the reopening of foreign markets in October as a second phase of the Sandbox project, many wonder how long it will take to return to the pre-Covid 2019 era of consistent trade?
In southern Thailand, with Phuket firmly entrenched in mass tourism and Samui constrained by airlift constraints, Krabi is at a crossroads on which market model to follow. Compared to Phuket, Samui, and Phang Nga, Krabi had the highest proportion of domestic guests at accommodation businesses, accounting for 43% in 2019.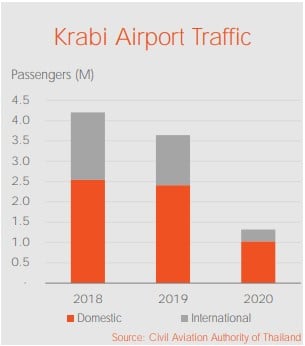 "In the pipeline, the incoming key properties are affiliated with international hotel brands which is a sign of destination maturity. With more upscale and luxury properties entering the market, Krabi will benefit from
growing destination awareness and greater diversified market segments." – Bill Barnett, Managing Director, C9 Hotelworks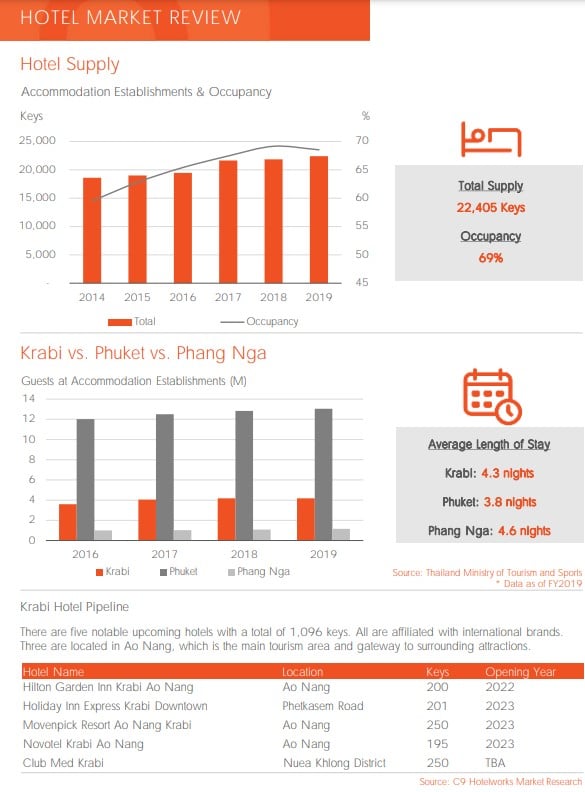 Source: C9 Hotelworks