The Royal Thai Government has officially approved Phuket to reopen for fully vaccinated travelers to enter the Kingdom of Thailand without quarantine requirements from 1 July 2021 under the "Phuket Sandbox" program.
For Thailand Elite visa holders who are interested in entering Thailand under the "Phuket Sandbox" program, we would like to share with you the guidelines as follows:
1. Members must travel from countries/territories approved by the Centre for COVID-19 Situation Administration (CCSA), per the guidelines of the Ministry of Public Health (MoPH), as proposed by the Ministry of Tourism and Sports (MoTS) and TAT, and must have been in the said countries for no less than 21 days before their travel date.
2. Members are required to notify Thailand Elite Member Contact Center or Thailand Elite Member Quarantine (TEM-Q) Team to enter Thailand under the "Phuket Sandbox" program. Members will be given a link to fill in an application form, and more instructions will be provided by TEM-Q team.
3. Member applies for a COE online specifically for Phuket Sandbox Program (not the general COE) by uploading documents into https://coethailand.mfa.go.th/, including:
Airline Tickets
SHA+ Hotel Booking Confirmation.  View the full list of accredited

SHA+ hotels here

. 
Health Insurance that covers treatment of COVID-19 with minimum coverage of 100,000 USD
Vaccine Certificate
Hotel's Confirmation of 3 COVID-19 RT-PCR tests in Phuket.
4. When a member's COE application has been approved, the member is required to send a copy of the COE to the TEM-Q team by email at [email protected] to check the COE's correctness and book Elite Personal Assistant service upon arrival at Phuket Airport.
Take note that Thailand Elite will not arrange the EPA service for you at Phuket airport if you do not send a copy of your COE to the TEM-Q team.
TEM-Q team is ready to assist you through all processes. Don't hesitate to get in touch with TEM-Q team at +66 2352 3076 from 8:00 a.m. to 4:00 p.m. (GMT+7) or email us at [email protected].
For more information, please feel free to contact these numbers:
+66 89 979 8466
+66 81 787 4004
or email us at [email protected]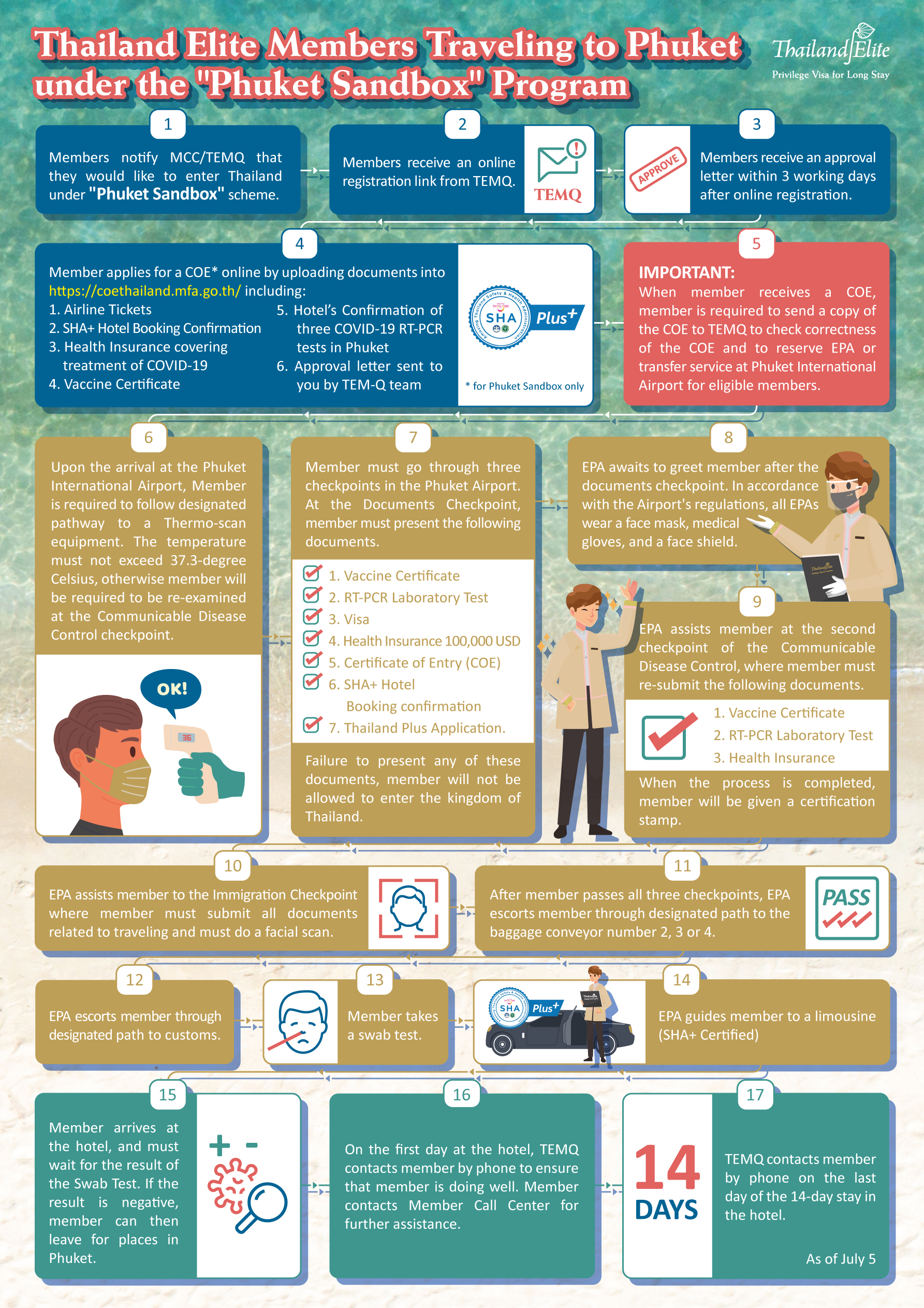 View and compare elite visa packages here.