Elite Easy Access Members, upgrade your membership
HERE.
10 to 20 Years Elite Visa
Flexible Plus Program
Recommended elite program for current Elite Ultimate Privilege, Elite Superiority Extension, and Elite Privilege Access who are interested in investment and special privileges to work in Thailand.
Make your living in Thailand more comfortable by upgrading your Thailand Elite membership to Flexible Plus Program. This program is aimed at foreigners in need of a work permit. As a member, you can get access to members-only benefits and perks while in Thailand and also have the benefits to work and make business anywhere in the country. Thus, making you and your family stay in the country hassle-free.
For inquiries, contact or open live chat.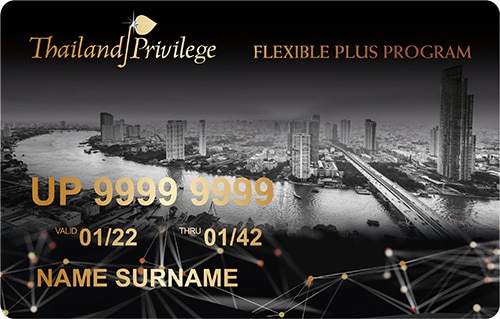 ВЫУЧИТЬ БОЛЬШЕ
Membership Validity
Depends on the current Thailand Elite membership card. 20 years for Elite Ultimate Privilege, 20 years for Elite Superiority Extension, and 10 years for Elite Privilege Access
Membership Fee
None
Conditions
Invest at least $1,000,000 USD in 3 different types of investment. These investments are real estate, a public company limited or company, and stock exchange of Thailand.
Approval Period
4 to 6 weeks!
Payment
Pay upon approval of your application.
Payment Method

Cash, Credit Card, Bank Transfer, Bitcoin, Ethereum and Tether (USDT).

Restrictions

The applicant must be a Thailand Privilege card member with a membership validity of at least 10 years or more and whose membership fee is more than 1 million Baht.

The work permit will be terminated if the member cancels his investment or reducing the amount of his/her investment in any case possible or fails to present proof of investment within the time frame specified.

Members who are not entitled to apply for the work permit under the Flexible Plus Program will retain their Thailand Privilege Card status and receive benefits and services according to the condition of each card type as usual.

Complete application until Sept. 15, 2023 to avoid the anticipated price increase. See details here.
See Application Process Below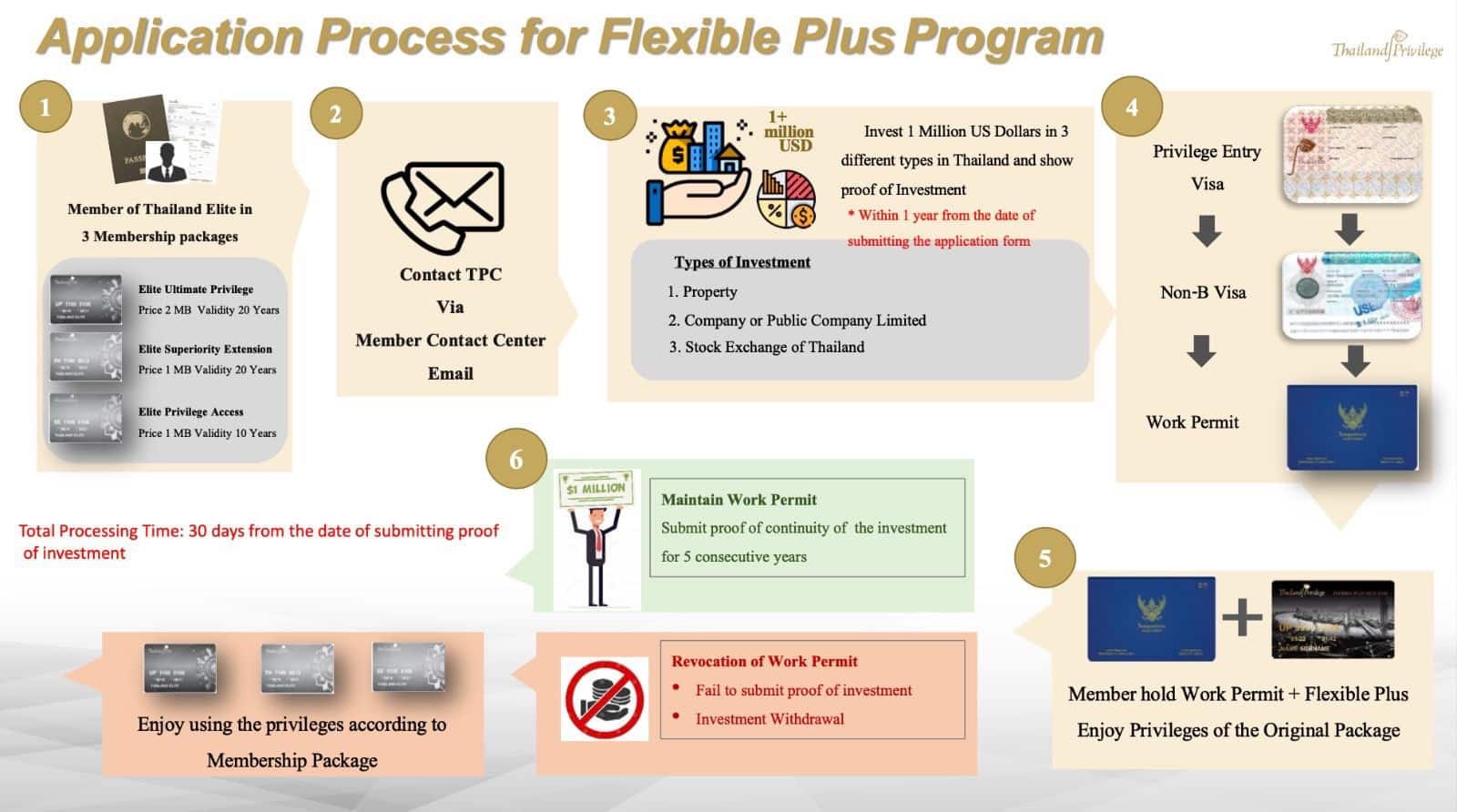 Privilege/ Year
Elite Ultimate Privilege (EUP)
Elite Superiority Extension (ESE)
Elite Privilege Access(EPA)
Member
Family
Member
Family
Member
Family
Golf/ Spa (Share Quota)
24/24
Share
X
X
X
X
Спа-центры
Unlimited
6
X
X
18
Share
Lounge
Unlimited
3
Unlimited
3
Unlimited
3
EPL (Plus) – Priority Service
6
3
6
3
6
3
EPA & A plus (Electro Cart)
Unlimited
3
Unlimited
3
Unlimited
3
Dedicated Lime (Call)
Yes
Yes
Yes
Yes
Yes
Yes
Entry Visa
Renewable five-year multiple entry visa with a one-year extendable length of stay per entry
Гольф-клубы

VIP greeting and escort on arrival and departure by Elite Personal Assistants
Expedited immigration and passport control processing
Exclusive arrival and departure lounges
Complimentary limousine transfer from airport to residence or hotel (within Bangkok, Chiang Mai, Phuket, and Samui) on international flights (EUP and EPA members only)

Selected Partner Privileges

Golf: Complimentary green fee (EUP members only)
Spa: Complimentary spa treatment (EUP members only)
Hospital: Complimentary annual health check-up (EUP and EPA members only)

Government Concierges & Facilitation
Immigration service, 90-day report, assist in the processing of driver's license, assist in opening bank accounts; business networking
Other Benefits
King Power Duty-Free benefits and special discounts at hotels, dining establishments, leading department stores, and shopping malls
Member Contact Center

Dedicated Line (call)
English (24-hour service)
Korean, Mandarin, Japanese (6.00 am- 9.00 pm*) *Bangkok standard time (GMT +7)
Call or chat us to learn more about how and why you should be a member of the Thailand Elite Visa.
Choose A Membership That's

Right For You!
Find out which Elite Visa fits your needs. Check our packages comparison and choose from one of various Elite Privilege Cards.