Starting November 1, 2021, when you enter Thailand besides the current visa, travelers must have to visit a website built by the Ministry of Foreign Affairs of Thailand and apply for Thailand Pass online.  Here's the step-by-step process on how to apply for Thailand Pass.
Step 1 Visit Thailand Pass Website
Visit the Thailand Pass website at https://tp.consular.go.th/ Make sure to disable ad blocker (if any) on your browser to avoid unexpected issues.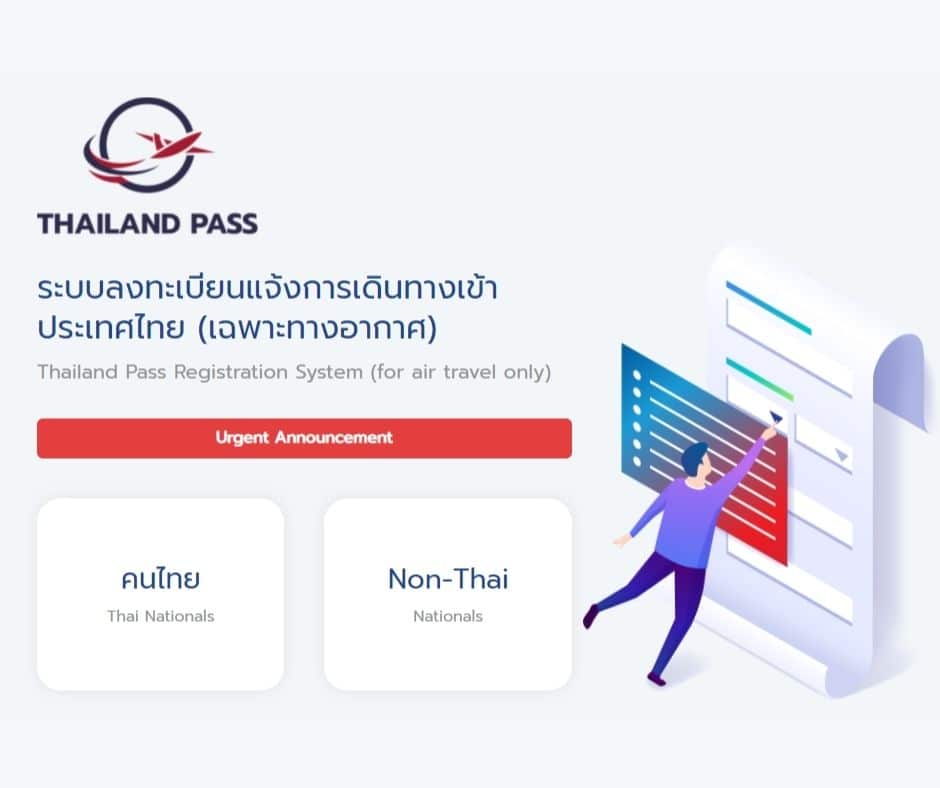 Step 2 Select Nationality
On the Thailand Pass website, there are 2 options.  These are Thai nationals and Non-Thai nationals.  For Thai nationals who want to come back to Thailand, they are now required to apply through the system.  If you are a foreign tourist planning to travel to Thailand, select the Non-Thai option and select English Language.  * Other languages will be supported in the future.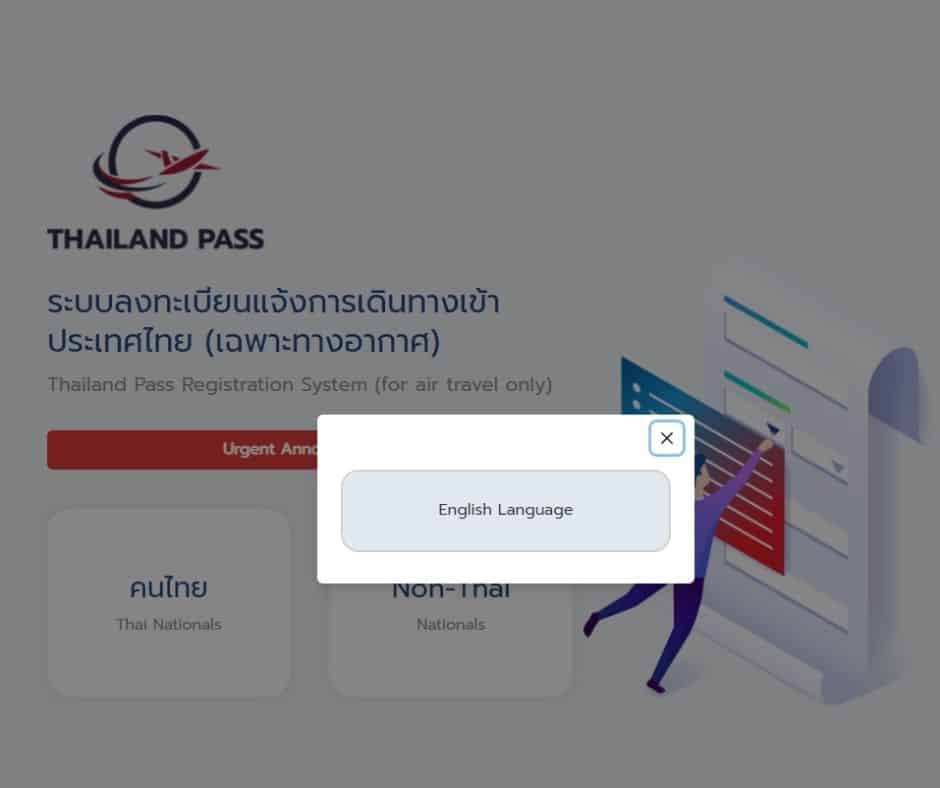 Step 3 Choose a Plan
Thailand Pass is only open for travelers who arrive through air travel only.  There are 3 ways to enter the country.
Plan 1: The Test and Go is a program where a fully vaccinated traveler is exempted from quarantine after testing negative for COVID-19 (RT-PCR) after arrival in Thailand.  UPDATE: Starting February 1, 2022, registration and application for the Test and Go program is OPEN.  Click here for more details.
Plan 2: The Blue Zone Sandbox is a program where fully vaccinated travelers from any country stay in an approved Sandbox area for 7 days and will be able to travel to the rest of the country.  Current sandbox areas are Phuket, Krabi, Phangnga, Surat Thani islands (Koh Samui, Koh Tao, and Koh Pha Ngan)
UPDATE: The CCSA added more sandbox destinations.  These are Koh Chang, Pattaya, Bang Sare, Na Chom Tian, and Koh Sichang.
Plan 3: Alternative Quarantine – under this plan non-vaccinated travelers from any country who want to visit Thailand must stay in quarantine for 7/10/14 days and will be able to travel to the rest of the country thereafter.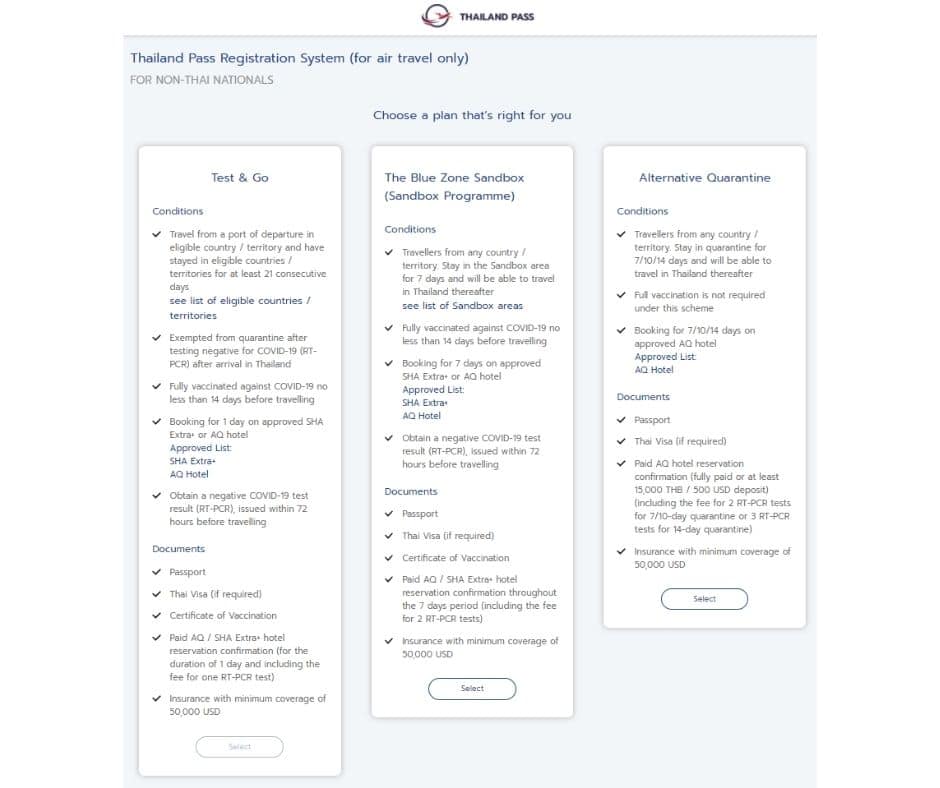 Step 4 Read and Agree to the Terms, Click confirm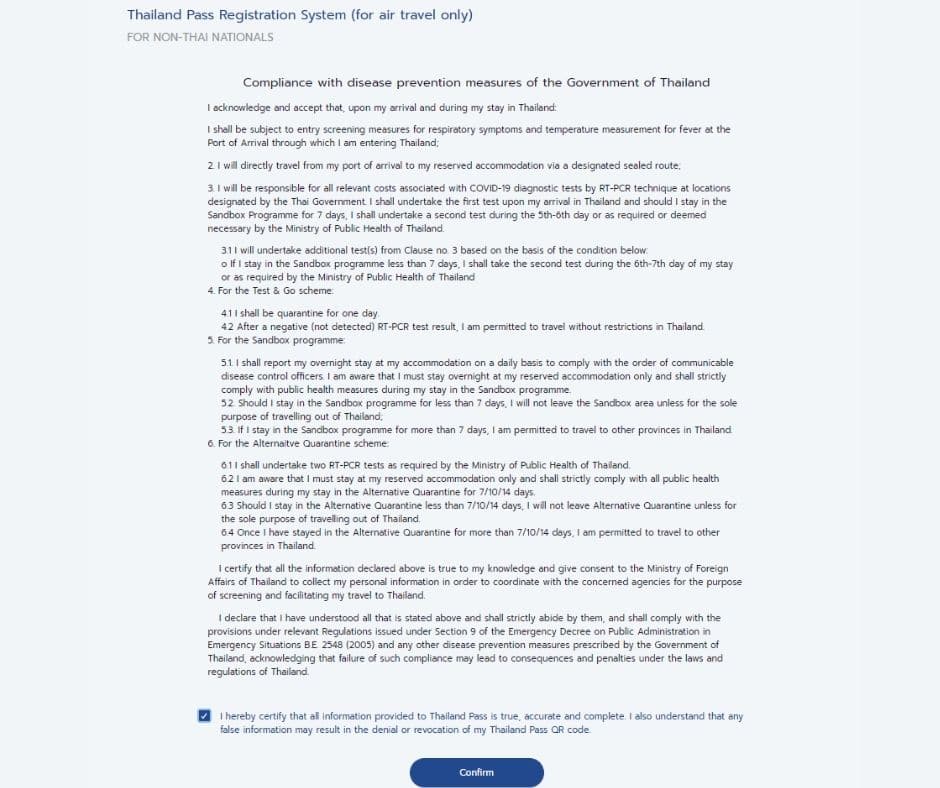 Step 5 Fill out the Purpose of Arrival, once done click Register
Make sure all information on the form are accurate.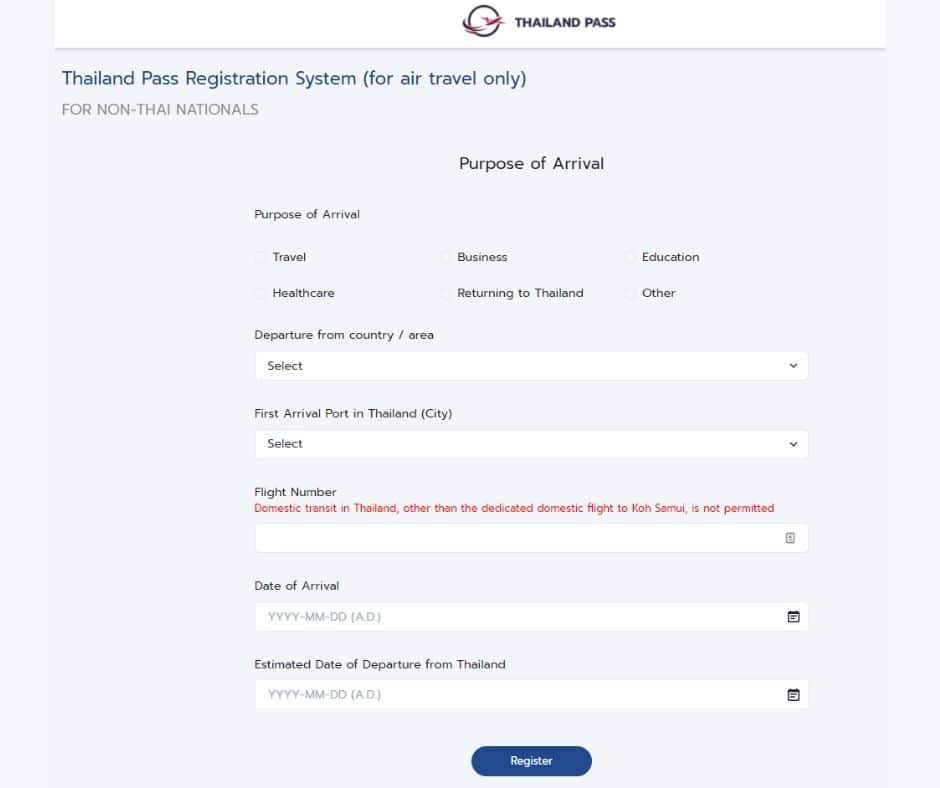 Step 6 Confirm Compliance with disease prevention measures of the Government of Thailand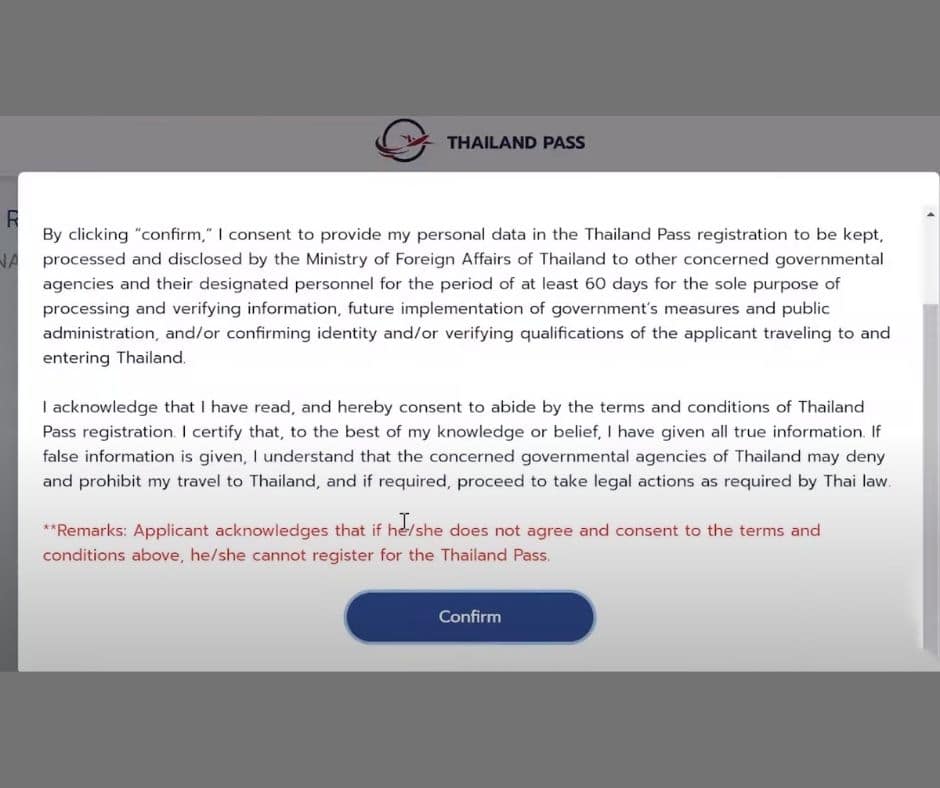 Step 7 Fill Out all the required Personal Information, once done Click Next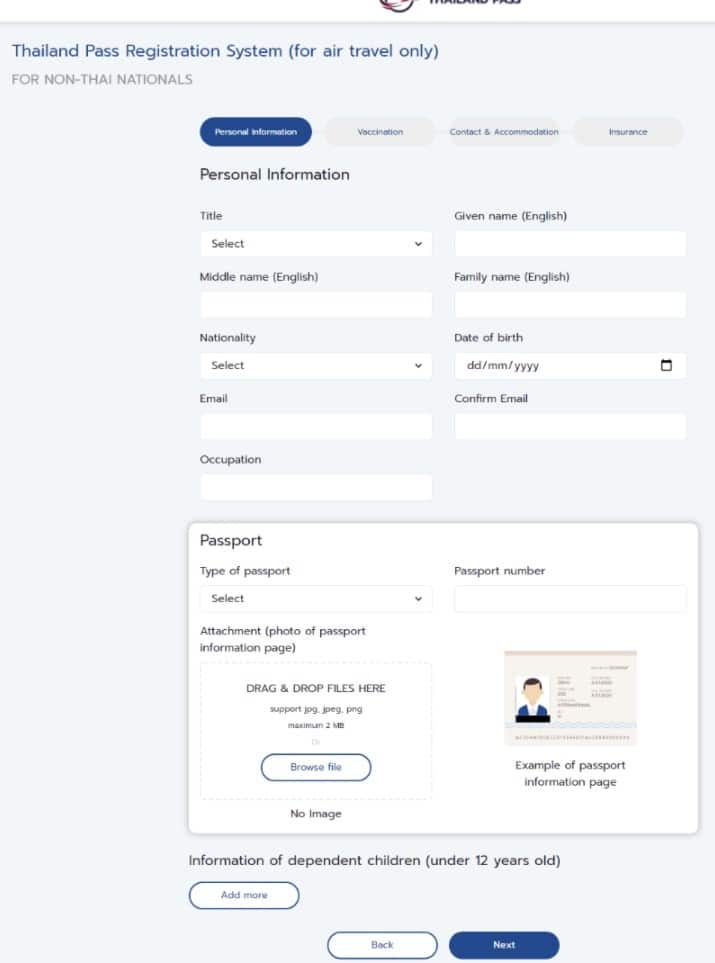 Step 8 Fill Out Information on COVID-19 Vaccination form, once done Click Next
If you have recovered from COVID-19 infection within 1 year you need to upload your medical certificate.  1st dose and 2nd dose vaccination documents are also required.  Reminder:  All documents must have to be in English language.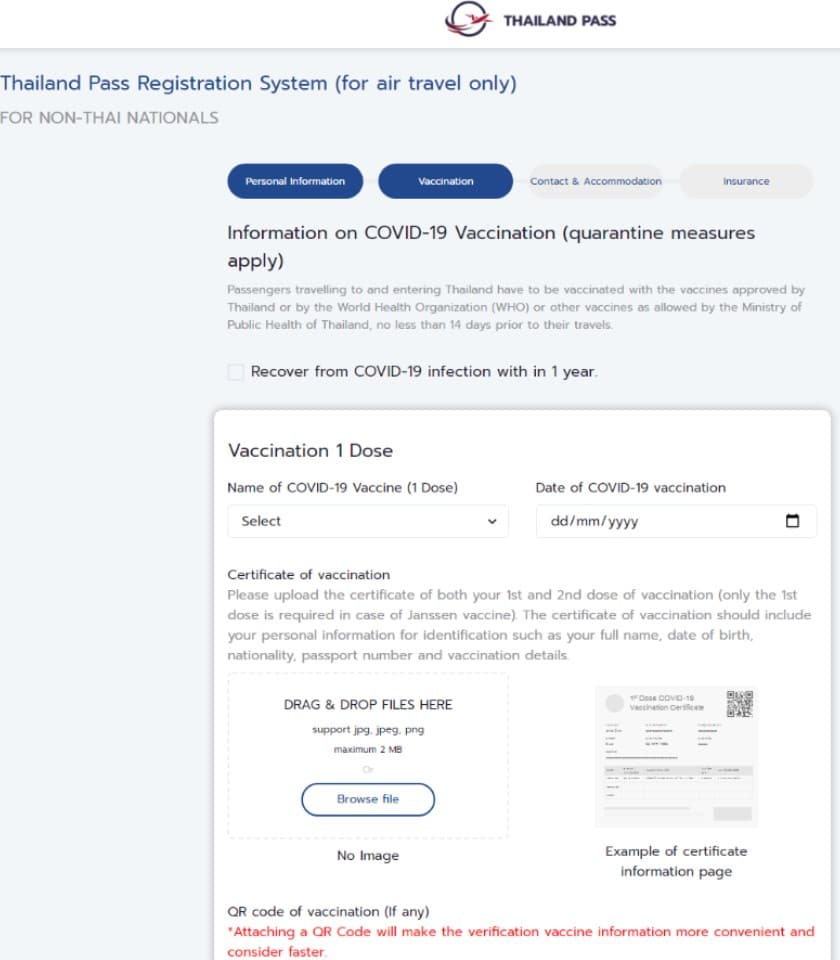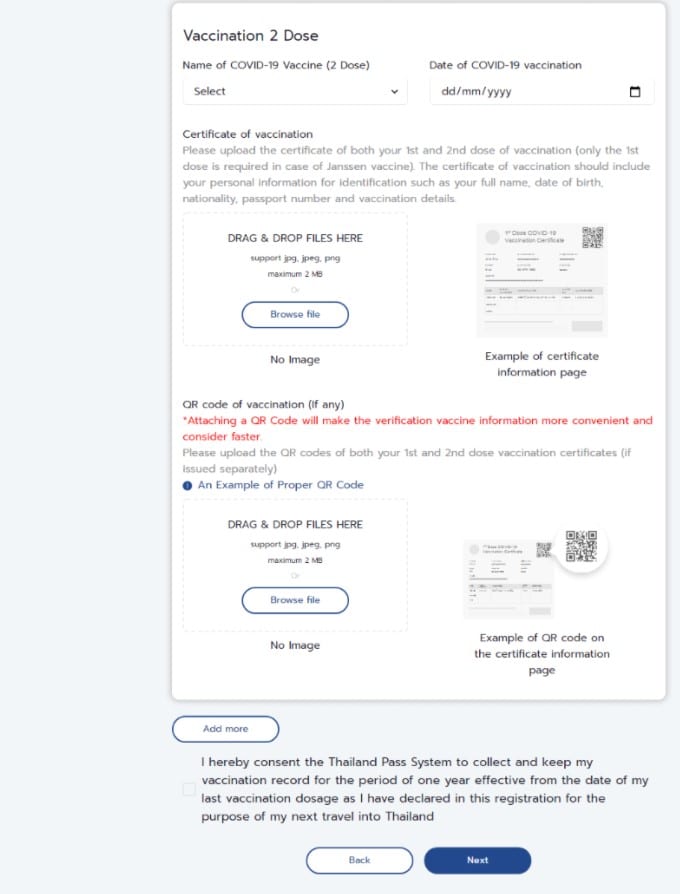 Step 9 Fill Out Contact and Accommodation, once done Click Next
When booking it is important to remember which type of place you're booking.  Usually, it's SHA+.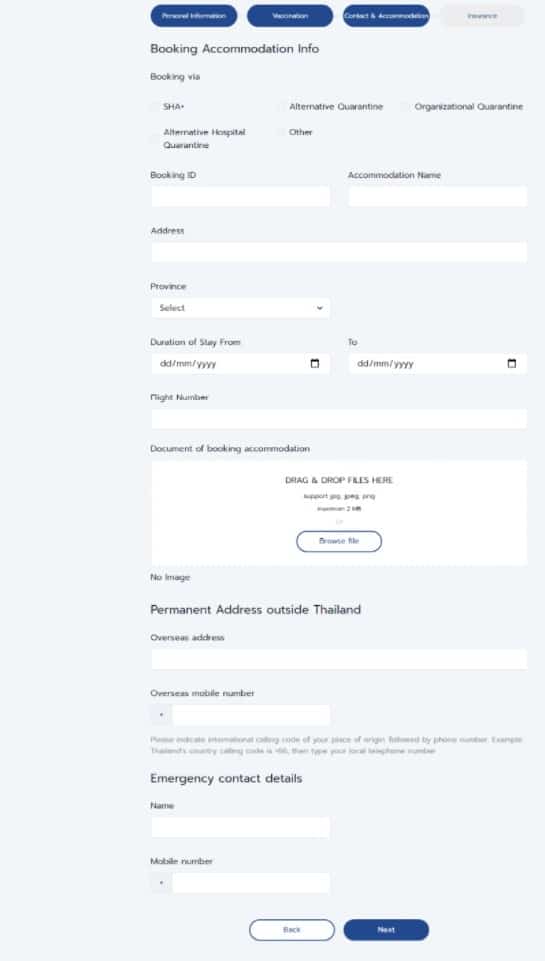 Step 10 Upload Medical Insurance document.
Take note that the minimum medical insurance coverage is 50,000 USD and it should cover your total duration of stay in Thailand.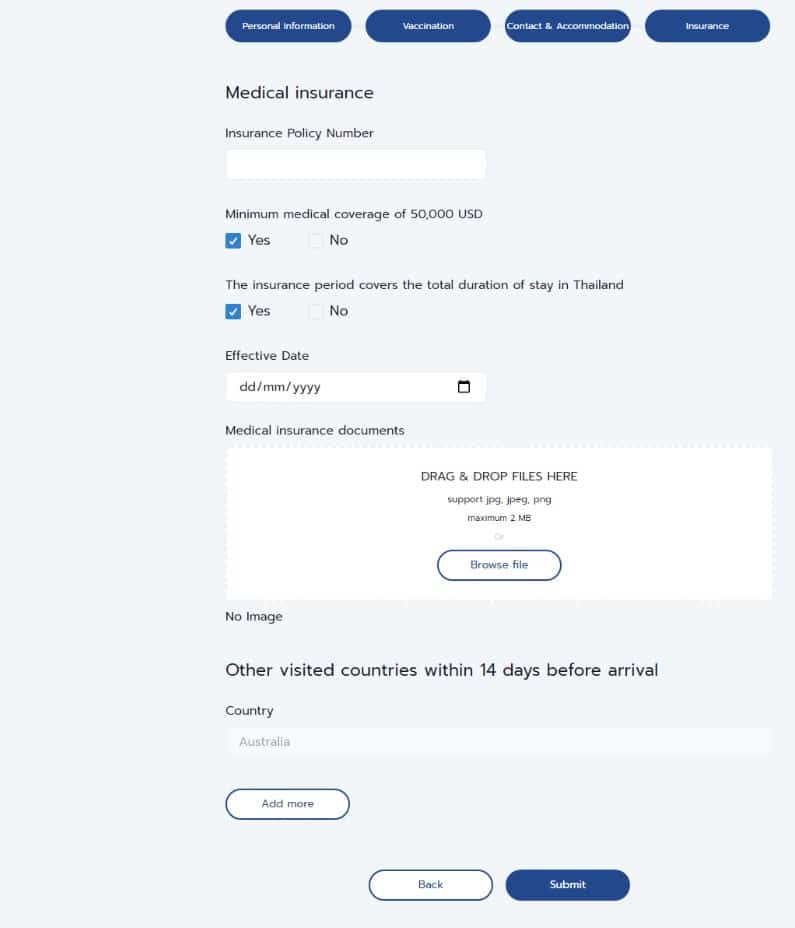 Step 11 Click Submit
A successful pop-up message will show up.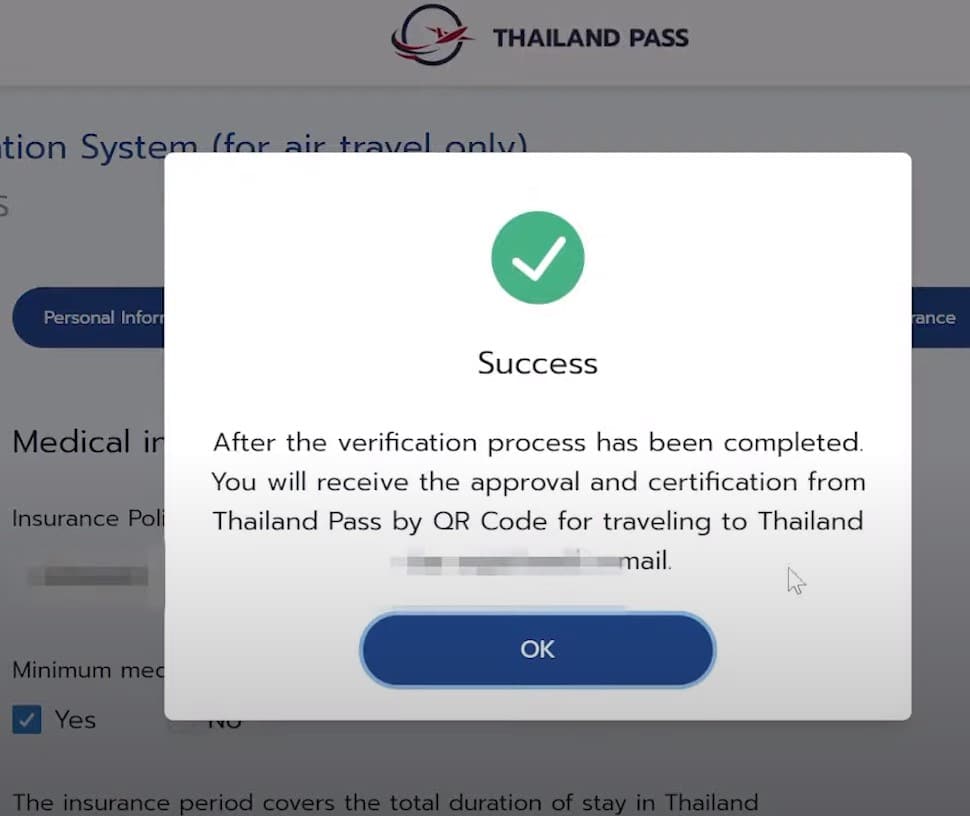 Step 12 Check your email regularly, you will receive a confirmation email from Thailand Pass telling you that they've received your registration.  The result of the Thailand Pass application will be sent to your registered email within 7 working days.  If you haven't received an email from Thailand Pass within 7 days, check your email spam folder.  If there's nothing, I suggest applying again.
Below is a sample of the approved Thailand Pass application.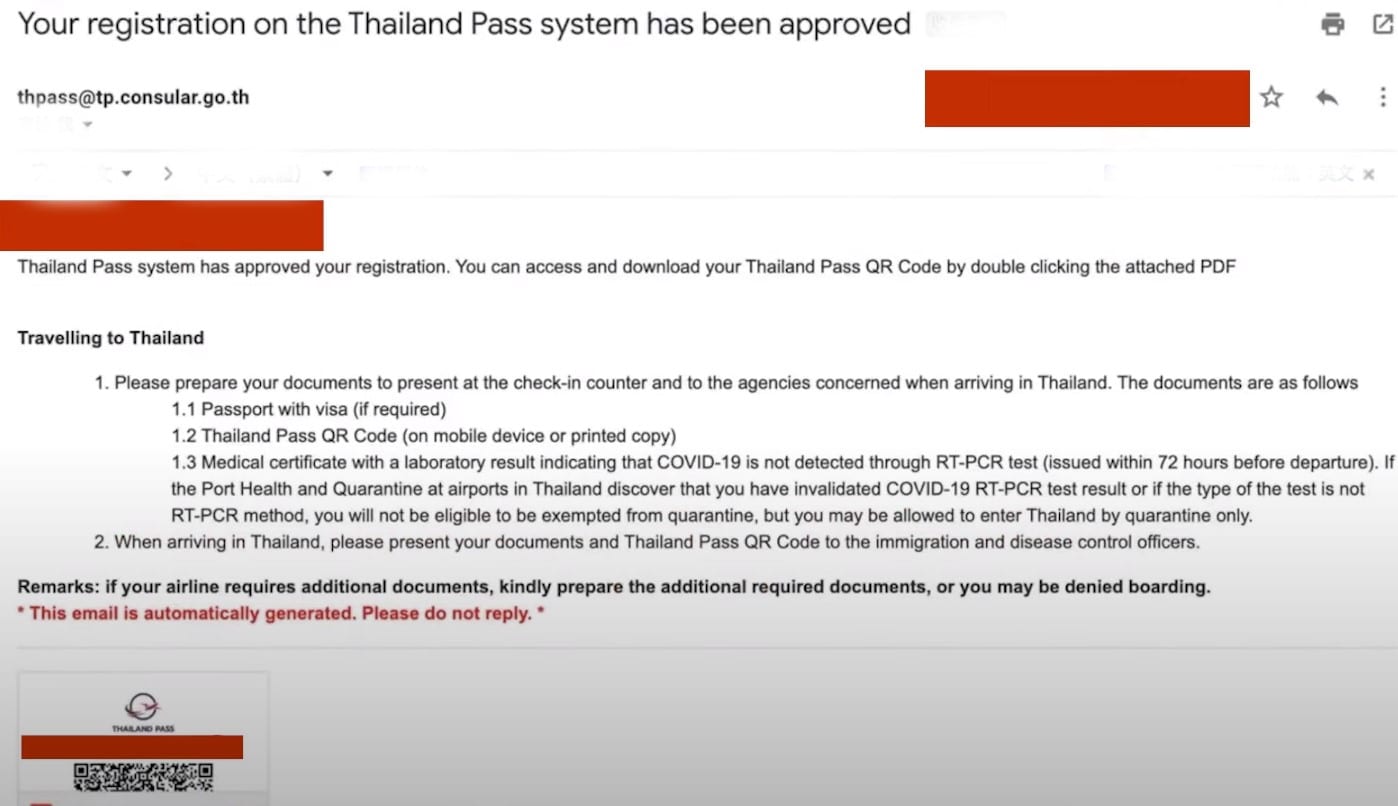 PRO Tips:
Print the approved Thailand Pass QR code to avoid any inconvenience.
Bring your COVID-19 test certification.
For more information on how to get into Thailand hassle-free using a Thailand Elite Visa, CLICK HERE. Apply now and get a free 3 months visa extension.