To maintain the practice of physical distancing as a preventive measure and to comply with the guidelines from the Ministry of Public Health, Thailand Privilege Card Co Ltd. will allow its staff to work from home until 31 January 2022.
Should you need to contact us on urgent matters, please contact Member Contact Center by phone at 02-352-3000 and by email at [email protected]
90-day Reporting
Below is the schedule for 90-Day Reporting for January 2022: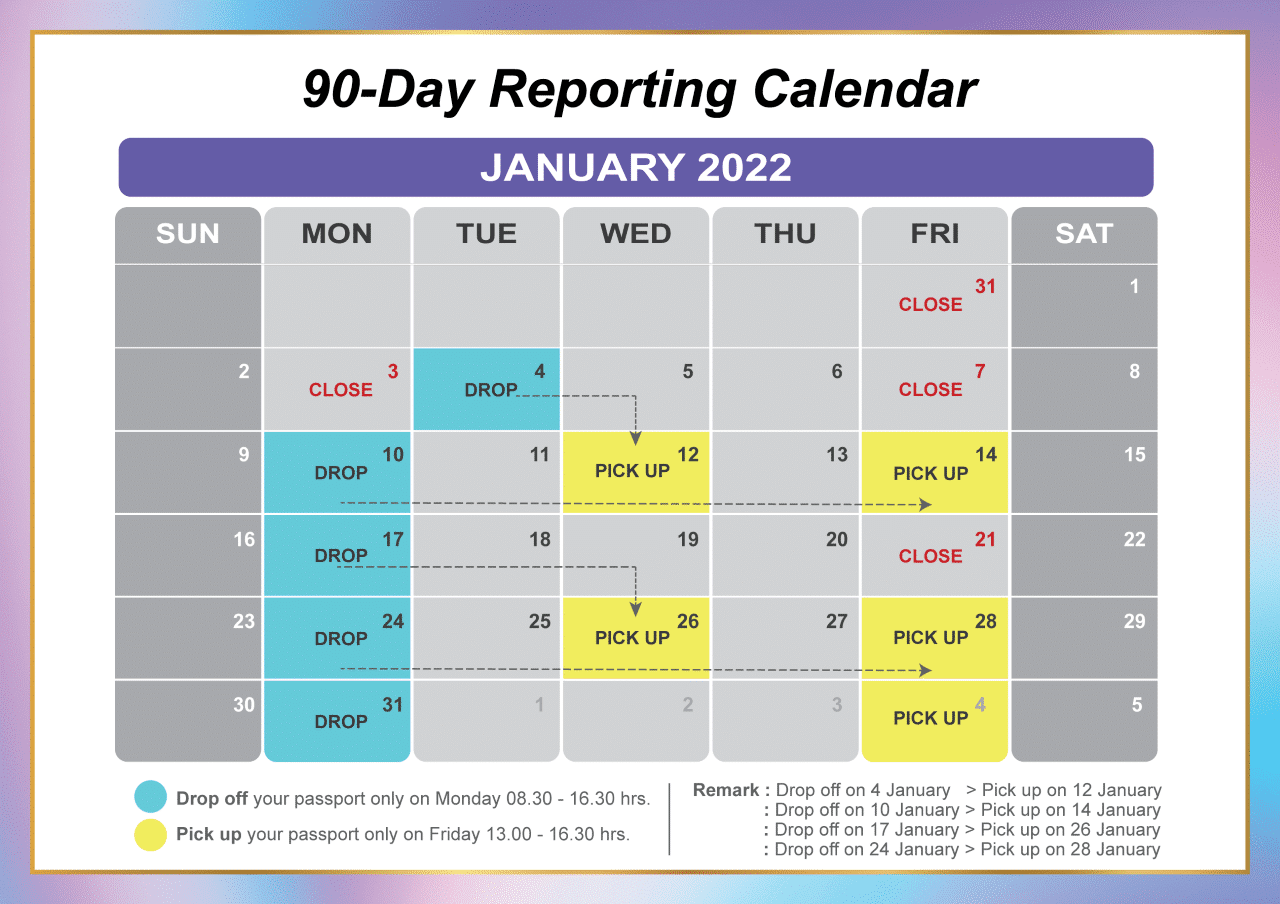 During the work-from-home period, please be informed that the Thailand Privilege Card Co Ltd. office on Sathorn Road opens on 17, 24, and 31 January 2022 (for passport dropping for 90 day-reporting) and on 26 and 28 January 2022 (for returning passport) only.
Thailand Privilege Card Co Ltd. will not be accepting or returning your passport for 90-day reporting on other days.
Documents for 90-day reporting through Thailand Elite Head Office
1. Valid passport with valid Thailand Elite visa (PE visa)
2. Departure card (TM.6 card)
3. Previous receipt of notification of 90 days report (if any)
4. Completely filled in TM.47 form with signature
5. Receipt of TM.30 notification (We regret to inform you that we do not provide service on doing TM30 report. Please prepare the completed receipt of TM.30 notification.)
EPL Service
To make a booking, it should be at least 5 working days in advance for Elite Personal Liaison services which will be available only at the Immigration Bureau (Chaeng Wattana Immigration office). To complete your booking, it is required to submit all relevant documents to the officer. In case of any missing documents, Thailand Privilege Card Co Ltd. will be unable to accept your booking until all required documents are submitted.

Note: The EPL service is subject to availability and it is on a first-come, first-served basis. Thailand Privilege Card Co Ltd. will be unable to accept bookings less than 5 working days in advance and not responsible for any penalty fine caused by the late reservations.
Always check your arrival stamp, extension stamp, and your 90-day reporting notification receipt to make sure that you are not overdue for 90-day Reporting and Overstayed. The penalties for overstaying in Thailand vary depending on the length of time you have stayed in the country past the visa expiration such as a fine, ban from entering the country, imprisonment, and deportation. Please kindly be informed that Thailand Privilege Card Co Ltd. can't provide any assistance in case of overstaying.
Transfer Service and Elite Personal Assistance (EPA) service
Should you need to make a reservation for transfer service and/or Elite Personal Assistant (EPA) service, make sure that the reservation is made no less than 24 hours prior to your preferred pick-up time from residence, or your preferred meet-up time at the airport, or your flight's arrival time. Thailand Privilege Card Co Ltd. can't accept any reservation made less than 24 hours in advance.

Suspension of new TEST & GO Thailand Pass

The new registration under the Test & Go Scheme has been suspended indefinitely subject to further assessment of the outbreak. Those who have already received their QR codes (Test & Go) earlier can still travel to Thailand as per their approved schedule.
Please note that the situation continues to be monitored by the CCSA daily.  We will keep you informed if there is any update.
You can also find the latest updates from PR Thai Government here.
Sorry for any inconveniences this may cause you. Your kind understanding is always greatly appreciated.
For further information, please contact Member Call Center Tel: +66 2352 3000 from 6:00 a.m. to 9:00 p.m. GMT+7 daily
Почта: [email protected]