Bangkok's charm lies in the fascinating blend of ancient temples, bustling street markets, and modern high-rises. If you're planning a trip to this dynamic city and want to experience something extraordinary, a luxurious dinner cruise along the Chao Phraya River is a must. The river, often referred to as the "River of Kings," is the lifeblood of Bangkok, winding its way through the heart of the city. A dinner cruise offers an unforgettable evening, combining delicious cuisine with stunning views of illuminated temples and historical sites. In this post, we'll introduce you to the best luxurious dinner cruises in Bangkok, so you can choose the one that suits you best.
1. Apsara Dinner Cruise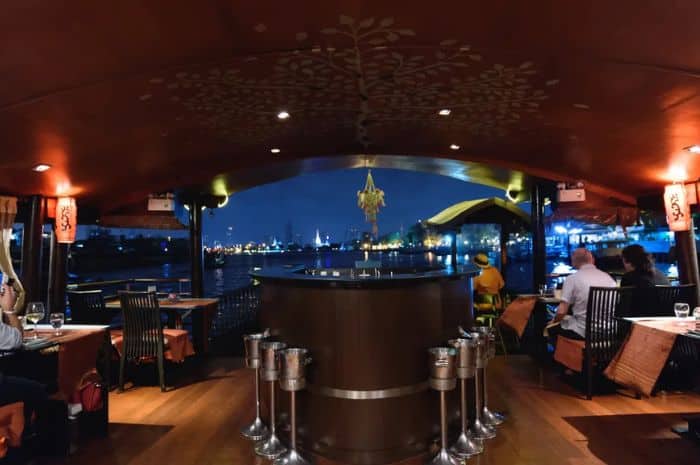 The Apsara Dinner Cruise by Banyan Tree is an elegant option for those looking for a more intimate and upscale dining experience. Step aboard the beautifully restored antique rice barge, and savor a delicious four-course Thai dinner prepared by the talented chefs from the renowned Banyan Tree Hotel. The Apsara offers a leisurely journey along the Chao Phraya River, allowing you to enjoy stunning views of the illuminated Grand Palace, Temple of Dawn, and Rama VIII Bridge. With its exceptional service and exquisite cuisine, the Apsara Dinner Cruise is a perfect choice for a romantic night out or a special celebration.
2. Shangri-La Horizon Dinner Cruise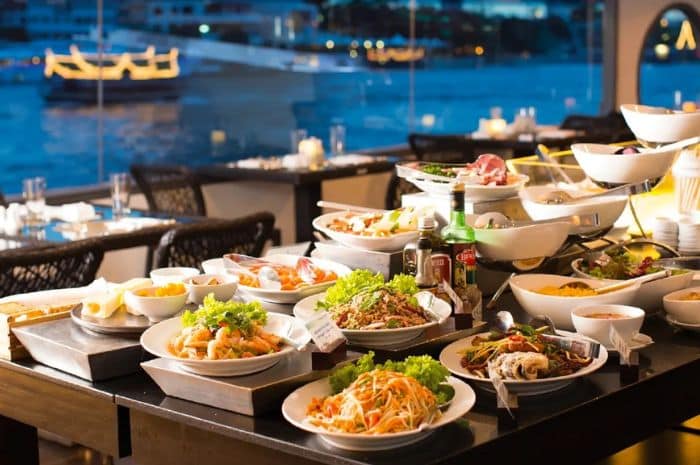 The Shangri-La Horizon Dinner Cruise promises a night of elegance and sophistication aboard a luxurious modern river cruiser. Operated by the prestigious Shangri-La Hotel, this dinner cruise offers a sumptuous international buffet, featuring Thai, Japanese, Indian, and Western dishes. The beautifully designed boat has floor-to-ceiling windows, ensuring you don't miss any of the breathtaking views. The attentive staff and live jazz band add a touch of refinement to your evening, making the Shangri-La Horizon Dinner Cruise ideal for a special occasion or a memorable night out with friends.
3. Manohra Cruises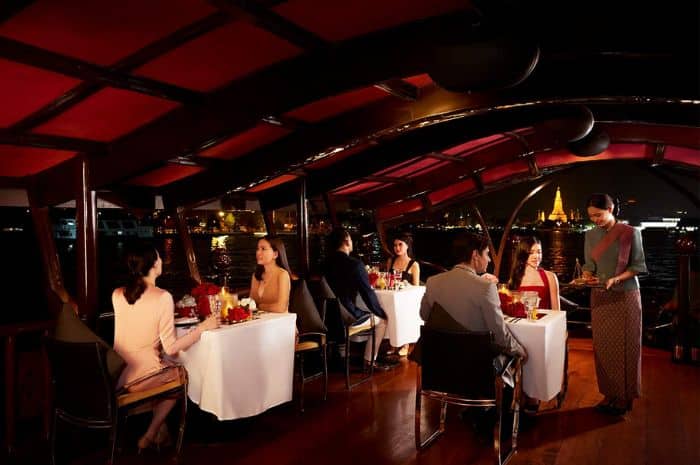 Manohra Cruises offers a truly exclusive and luxurious experience aboard one of their beautifully restored wooden rice barges. With a capacity of just 40 guests, this dinner cruise ensures an intimate atmosphere as you dine on a delectable eight-course Thai dinner. The menu includes dishes such as grilled river prawns, beef massaman curry, and coconut and palm sugar creme brulee. As you enjoy the fantastic food and attentive service, you'll also have the opportunity to admire the breathtaking views of Bangkok's famous landmarks, including the Grand Palace and Temple of Dawn.
4. Chaophraya Princess Cruise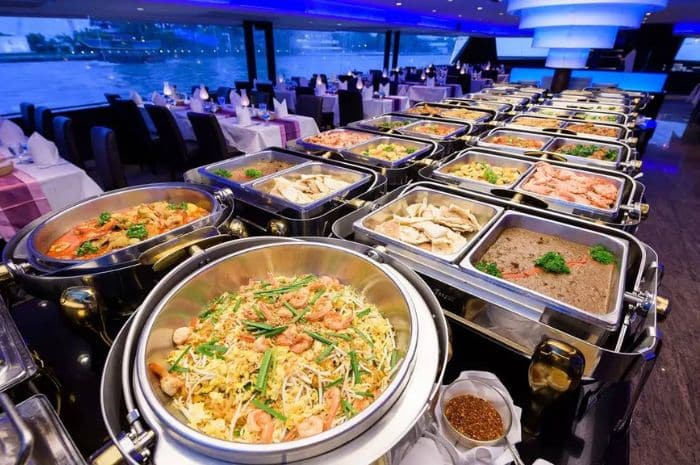 The Chaophraya Princess Cruise is a luxurious Bangkok dinner excursion that guarantees a memorable trip. As you step on board, you are greeted with gracious hospitality and an elegant atmosphere, putting the stage for an unforgettable night. The Chao Phraya Princess Cruise provides an exceptional international buffet on all of their vessels. Indulge in a variety of world-class dishes that are masterfully prepared to satisfy every taste. The cruise travels gracefully across the Chao Phraya River, leading you to see the city's captivating sites, including the Grand Palace, Wat Arun, along with other illuminated landmarks.
The cruise features engaging entertainment. Indulge yourself in the sounds of live music performed by skilled musicians and be mesmerized by traditional Thai dance shows, incorporating an authentic flavor to this luxurious Bangkok dinner cruise. The Chaophraya Princess Cruise is highly recommended for first-time travelers to Bangkok since it passes through the majority of the city's famous landmarks. This exquisite cruise guarantees you won't miss any must-see attractions during your journey.
5. Pruek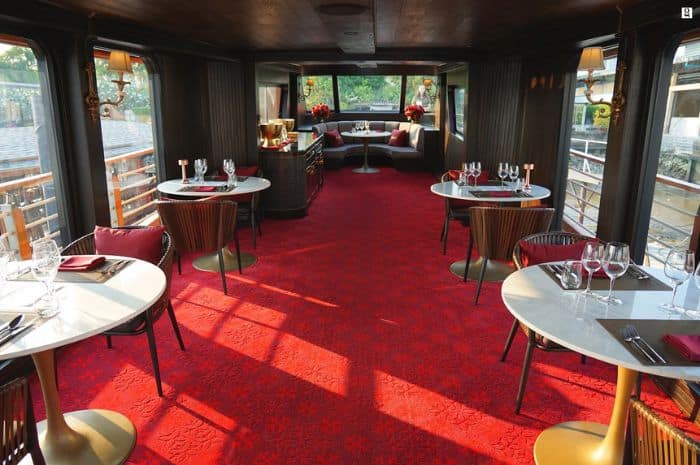 The Pruek Cruise on the Chao Phraya River offers a beautiful setting for an array of celebrations, including a private get-together with friends, a romantic luxury dinner cruise in Bangkok with your significant other, or a family gathering. This three-story teakwood vessel features a Champagne Bar, a Rooftop Garden, and luxurious interior and outdoor dining areas. Some of Bangkok's best chefs, such as Arnaud Dunand Sauthier, Sawaan's chef Aom, and Francesco from Lenzi Tuscan Kitchen, prepare the dishes on board to spice up your experience.
A luxurious dinner cruise along the Chao Phraya River is a must-do experience when visiting Bangkok. Each of these cruises offers its own unique charm, providing an unforgettable evening of fine dining and stunning views. Whether you prefer the intimate ambiance of a traditional rice barge or the sophistication of a modern river cruiser, there's something for everyone in this list of the best luxurious dinner cruises in Bangkok.
As you plan your trip to Thailand, consider applying for обратиться. This exclusive long-term visa program offers a range of benefits, including expedited immigration clearance and access to exclusive discounts on dining, shopping, and more. With the Thailand Elite Visa, you can enjoy an even more seamless and enjoyable experience as you explore the wonders of Bangkok and indulge in a luxurious dinner cruise along the River of Kings.