Elite Easy Access Members, upgrade your membership
HERE.
5 Years Elite Visa
Gold Membership
The Gold Membership is uniquely designed for individuals seeking a refined living experience in Thailand.
5 Years Visa validity
900,000 THB membership fee
Membership can't be transferred
Upgradeable
20 Privilege Points/Year
For inquiries, contact or open live chat for more information.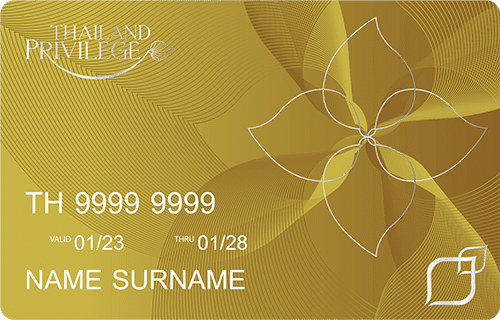 LEARN MORE
Card Type Information

Gold

1. Membership Card Validity

5 years

2. Primary Membership Card

Membership Fee (Vat included)

900,000 Baht

Privilege Points

20 Points

3. Supplementary Membership Card

Membership Fee (Vat included)

–

Privilege Points

–

4. Membership Transfer

No

5. Upgrade to Individual Membership (as per the conditions specified by the company)

Yes

Privileges of each Card Type

Gold

1. Elite Personal Assistant (EPA)

Unlimited

2. Premium Lane (International Airport: Suvarnabhumi, Chiang Mai, Phuket)

Unlimited

3. Wealth Advisory

Yes

4. Member Contact Center (MCC)

Yes

Complimentary (Benefits are subject to change each year.)

Gold

1. Annual Health Check

once / membership validity

2. Free One-Night Stay from Anantara Vacation Club* (first year only)

Yes

3. Birthday Gift

–

4. Movie Ticket Buy 1 Get 1

Unlimited

5. Mos Burger Buy 1 Get 1 Free (One per Month)

Yes

6. Personal Accident Insurance (PA) (first year only)

180 days

7. Personal Shopping Assistant / Premium Lounge / Parking

Advance Appointment

8. Co-working Space

–

9. Leading Restaurant, Store, Discounts

Yes

Points to Redeem Benefits

Gold

1. Elite Personal Liaison (EPL)

Bank Service / Drivilng License / Government Service

Point Redemption

2. Stay

Hotel Night Buy 1 Get 1

Point Redemption

Hotel Nights Buy 2 Get 1

Point Redemption

3. Travel

Airport Transfer

Point Redemption

Airport Lounge

Point Redemption

Private Jet

Point Redemption

Limousine / Car Rental

Point Redemption

Boat / Yacht Rental

Point Redemption

4. Leisure

Entertainment Ticket




(Concert / Movie / Sports)

Point Redemption

Restaurants

Point Redemption

Shopping

Point Redemption

Co-working Space

Point Redemption

Networking Event

Point Redemption

5. Well-being

Golf

Point Redemption

Spa

Point Redemption

Annual Health Check / Dental Care

Point Redemption

Health & Wellness Program

Point Redemption

Fitness (Hotel & Chain Fitness)

Point Redemption

6. Wealth

Insurance

Point Redemption

Seminar

Point Redemption

7. 90 Days Report

Point Redemption
"MORE CHOICES MORE FREEDOM"
Your freedom of choices to endless privileges.
STAY

Complimentary Membership from Leading Hotel Chains
Stay One Night with A Complimentary Night
Special Complimentary from Hotel Partners During Stay

TRAVEL

VIP Greeting & Assistance
Airport Transfer
Airport Lounge access
Special Deals from Private jet, Airlines, Yacht, and Rental car

LEISURE

Special Discounts and Privileges, Lounge access at Leading Shopping Centers
Personal Shopping Assistant
Co-working space
World Class Concert Tickets
VIP Movie Ticket at Leading Cinemas

WELL-BEING

Complimentary Health Check-up
Complimentary Hotel Chain Fitness
Spa, Health & Wellness package

WEALTH

Wealth & Investment Advisory
Networking & Seminar
Special Insurance Package
Experience the fun each full moon party has to offer. Make this happen with Gold Membership.
Choose A Membership That's

Right For You!
Find out which Elite Visa fits your needs. Check our packages comparison and choose from one of various Elite Privilege Cards.