Elite Easy Access Members, upgrade your membership
HERE.
5 Years Elite Visa
Elite Easy Access
The preferred choice for persons who travel to Thailand frequently.
Whether you're in Thailand for business or pleasure, it's a must for you to experience the joys of the monthly full moon party. These parties let you and other tourists come together and share what Thailand offers in terms of entertainment.
Further, enhance that experience by being a member of Thailand Elite's Elite Easy Access Membership. It comes with a five-year, multiple-entry visa that you can also renew upon expiry.
Say goodbye to long lines at immigration upon arrival, because Thailand Elite Easy Access Membership grants you access to exclusive lounges where your immigration process is speeded up by 90%!
You also get access to luxurious limousine service, from your hotel to other destinations.
The Elite Easy Access can be upgraded to Elite Superiority Extension, making your stay valid for 20 years.  For inquiries, contact or open live chat for more information.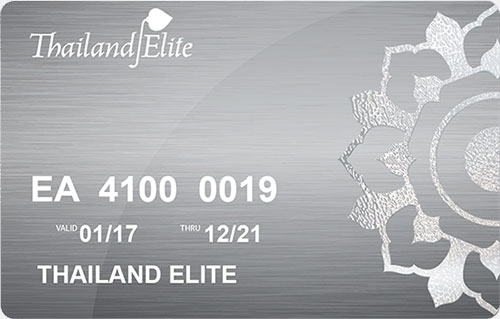 LEARN MORE
Membership Validity
5 Years Elite Visa
Membership Fee
THB 600,000(VAT included)
Membership Upgrade
Elite Access can be upgraded to Ultimate Privilege for THB 1.5 Million (VAT included)
or Superiority Extension for THB 400,000 (VAT included).
Condition
Non-transferable/Non-refundable
Approval Period
4 to 6 weeks!
Payment
Pay upon approval of your application.
Payment Method

Cash, Credit Card, Bank Transfer, Bitcoin, Ethereum and Tether (USDT).

For new members
Complete application until Sept. 15, 2023 to avoid the anticipated price increase. See details here.
For existing members
Should you wish to upgrade to Elite Privilege Access or Elite Superiority Extension, please complete the membership upgrade form. Note that application for a membership upgrade must be completed not less than three (3) months before your Elite Easy Access membership expires.
Privilege Entry Visa
Renewable five-year multiple entry visa with extendable one-year length of stay per each entry
Arrival and Departure

VIP greeting and escort on arrival and departure by Elite Personal Assistants
Expedited through immigration and passport control processing
Exclusive arrival and departure lounges
Complimentary short-haul limousine transfer 24 times per calendar year from airport to residence or hotel* (within Bangkok, Chiang Mai, Phuket, and Samui) on international flights only

Government Concierges & Facilitation
Immigration service, 90-day Report, assist in the processing of driver's license, assist in opening bank accounts; business networking
Other Benefits
Special Discounts at King Power Duty-Free branches, hotels, dining establishments, leading department stores and shopping malls
Member Contact Center

English (24-hour service)
Korean, Mandarin, Japanese (6.00 am- 9.00 pm*) *Bangkok standard time (GMT +7)
Experience the fun each full moon party has to offer. Make this happen with Elite Easy Access Membership.
Choose A Membership That's

Right For You!
Find out which Elite Visa fits your needs. Check our packages comparison and choose from one of various Elite Privilege Cards.