Thailand Privilege Card Co. Ltd. has been doing customer satisfaction surveys throughout the past year and grasped a lot of positive feedback toward our airport services.  With the approval of the board management, we are very pleased to inform you that all Thailand Elite Visa holders can use the transfer service for domestic flights!
Thailand Elite members with transfer service eligibility are now able to book transfer service to/from the airport when traveling with domestic flights.  Please take note that transfer service for domestic flights doesn't include EPA or Elite Personal Assistant service.
Available airports and available types of cars for transfer service for domestic flights are as follows:

Below is the transfer service quota based on membership type: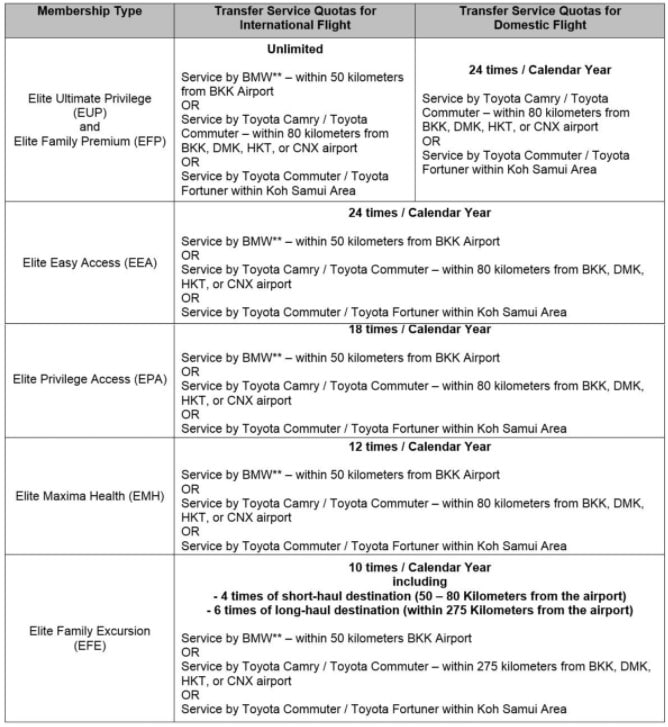 For reservation, please provide the following information to Member Contact Center.
1. Date of Travel
2. Flight number
3. Preferred pickup time (for departure flight) or flight's arrival time (for arrival flight)
4. Preferred type of car
5. Number of people traveling with the member
Please take note that reservations for transfer service must be made at least 24 hours in advance through [email protected].  For more information, please contact Member Contact Center Tel: +66-2352-3000
* Service is offered under the terms and conditions as designated by Thailand Privilege Card Co., Ltd.  The company reserves the right to modify, cancel and/or prescribe further limitations without prior notice.