Bangkok, 30th August 2023 – Thailand Privilege Card Co. Ltd., in an event at the Conrad Bangkok Hotel, proudly unveils its transformation and takes the Thailand Privilege experience to newer heights.
From Humble Beginnings to A Powerhouse: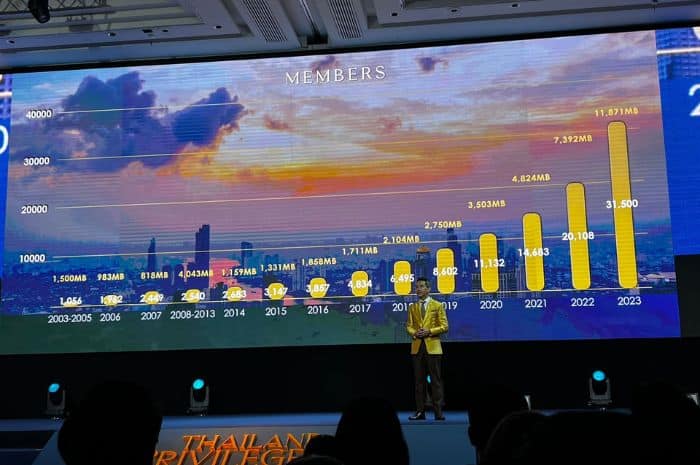 What started with 1,056 members between 2003-2005 has surged to an impressive 31,500 members in 2023 and is on an upward trajectory.
Target Demographics – A Focus on Diversity: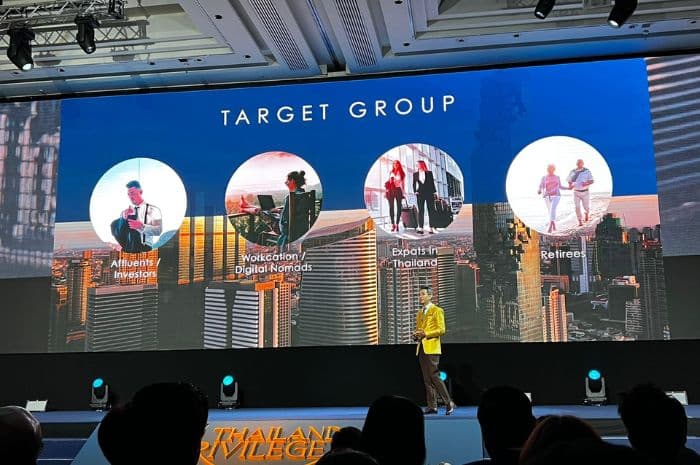 With its rebranding, Thailand Privilege sets its sights on a diverse group, including Affluent Investors, Workcation Enthusiasts/Digital Nomads, Expats living in Thailand, and Retirees.
Exclusive Lifestyle Privileges Await Members:
The company proudly showcases the range of privileges designed to make members' experiences seamless and luxurious, including:
*The Elite Personal Assistant gold uniforms.
* A variety of transfer service packages, both short-term and long-term.
* A 24-hour multilingual call center.
* Access to government concierge for expert consultation.
* Wealth and investment advisory services, exclusive networking and seminars, and special insurance packages.
* Well-being packages spanning annual health checks, fitness, golf, spa access, dental care, and more.
* Leisure benefits include exclusive discounts, special shopping privileges, VIP movie tickets, Thai boxing experiences, and more.
* Special travel arrangements via private jet, yacht, or luxury rental car.
* Complimentary memberships and a free night's stay at leading hotel chains in Thailand.
A Glimpse of the Future – New Elite Card Packages:
Members were given a first-hand look at the meticulously designed new elite card packages and signature services, which include Airport Transfers, Fast Track Immigration, Airport Lounge, Elite Personal Assistance, and more.
Gold Card Membership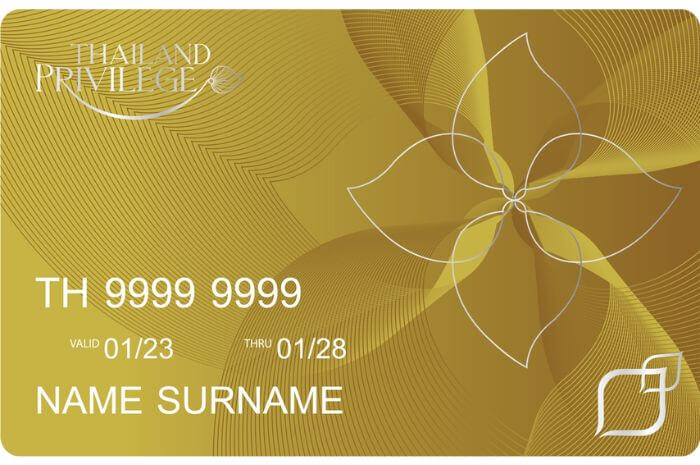 * Price: THB 900,000 or USD 25,560
* Visa Validity: 5 years
* Privilege Points: 20 annually
Benefits:
* Airport transfers
* Yearly health checks
* Access to spa and golf
* Premium lounge and shopping privileges
* VIP seating and more.
Platinum Card Membership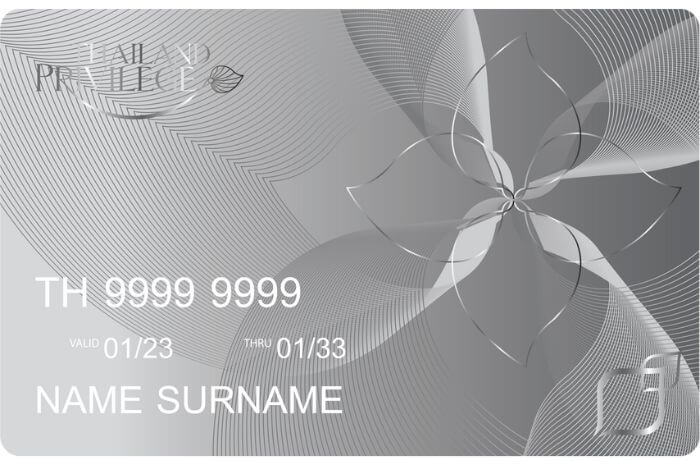 * Price: THB 1.5M or USD 42,610
* Visa Validity: 10 years
* Privilege Points: 35 annually
Benefits:

* Yearly health checks
* Premium lounge access in shopping malls
* VIP seating
* Birthday gifts
* Participation in seasonal events
* Complimentary hotel night
* Access to golf and spa, and more.
Diamond Card Membership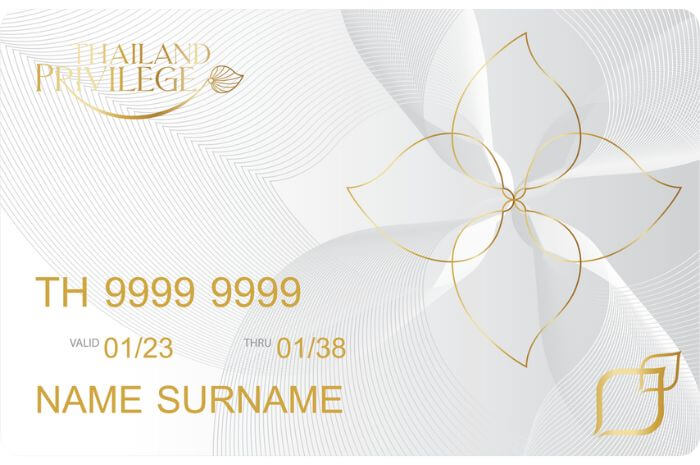 * Price: THB 2.5M or USD 71,000
* Visa Validity: 15 years
* Privilege Points: 55 annually
Benefits:
* Complimentary domestic flights with Bangkok Airways
* Yearly health checks
* Premium shopping experiences
* Access to co-working spaces
* Birthday gifts
* Insurance coverage
* Complimentary hotel nights
* Priority access to event tickets
* Exclusive networking events
* Wealth advisory services and more.
Reserve Card Membership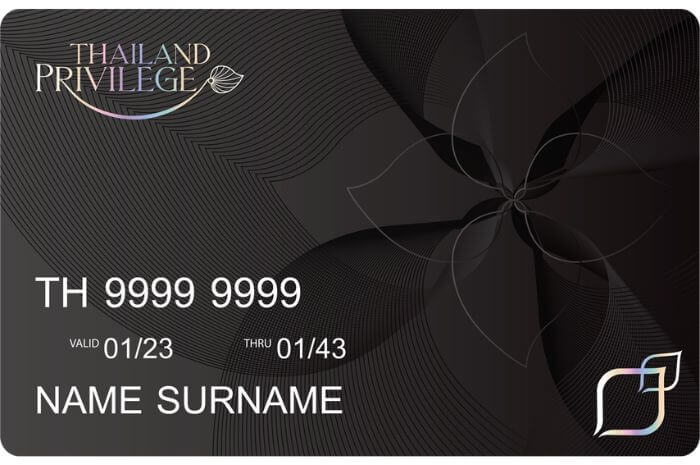 * Availability: By invitation only, limited to 100 members annually
* Price: THB 5M or USD 142,000
* Visa Validity: 20 years
* Privilege Points: 120 annually
Exclusive Benefits:
* Access to The Reserve Club
* Personal concierge service and seasonal gifts
* Priority services
* Dedicated customer hotline
* Supercar test drive experiences
* Complimentary domestic flights with Bangkok Airways
* Membership to Accor Plus hotel
* Access to hotel fitness facilities
* Yearly health checks
* Premium shopping experiences
* Birthday River Cruises
* Co-working space access, and more
Point Redemption Introduced:
The event concluded with introducing a point redemption process, ensuring members get the best out of their Thailand Privilege experience.
1 Point
* Airport Transfer / Airport Lounge
* Complimentary Nights or Dining
* Health, Spa, and Wellness Package
* Hotel and Chain Fitness Access
* Buy 1 Get 1 Free OR up to 50% Discount on Dining
* Buy 1 Get 1 Free Movie Tickets
2 Points
* Luxury Car Airport Transfer
* Dental Service & Health Checkup Package
* Golf
* VIP Sport Tournament Tickets
3 Points or more
* Roundtrip Domestic Airline Ticket via Bangkok Airways (Diamond Members)
* Long-Haul Airport Transfer
* Private Tour & Activities
* Health Check & Wellness Package
* World-class Concert and Event Tickets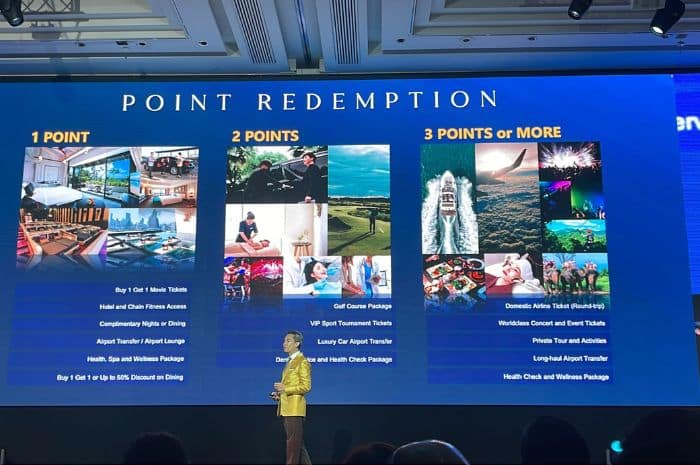 Things You Need To Know In Redeeming Privilege Points Using the New System
Thailand Privilege announced the introduction of the Privilege Points System. This system aims to provide more flexibility and varied choices of membership benefits. Below are the details you need to understand about this new system.
Point Allocation by Membership Tier:
Privilege points will vary based on the membership category:
* Reserve Members (20-year visa): Awarded 120 privilege points annually.
* Diamond Members (15-year visa): Awarded 55 privilege points annually.
* Platinum Members (10-year visa): Awarded 35 privilege points annually.
* Gold Members (5-year visa): Awarded 20 privilege points annually.
Redeeming Benefits:
All members can exchange their privilege points to unlock benefits from exclusive Thailand Privilege partners and services.
Thailand Privilege Mobile App: For added convenience to members, the company will launch the Thailand Privilege mobile app soon. This mobile app will allow members to track and check their privilege points on the go.
Special Redemption for Diamond Members:
Diamond members can redeem domestic flights using privilege points via Bangkok Airways, offering even greater value and convenience for your travels.
Annual Reset of Privilege Points:
The privilege points balance will reset every year. All members are encouraged to make the most of their points by redeeming them yearly. This reset ensures fairness and consistent value to all members.
Changes to Complimentary Services:
Please be informed that some services previously offered as complimentary will now require redemption of privilege points. Specifically:
* 90-day reporting
* Driver's license services
* Bank account-related services
* Airport transfer
* Use of airport lounge
The adjustment ensures high-quality service while offering more perks and benefits through privilege points.
Compare New Membership Packages:
Below is a detailed comparison that reveals the features and benefits of diamond, platinum, and gold membership packages. Each offers varying exclusivity, price, and services: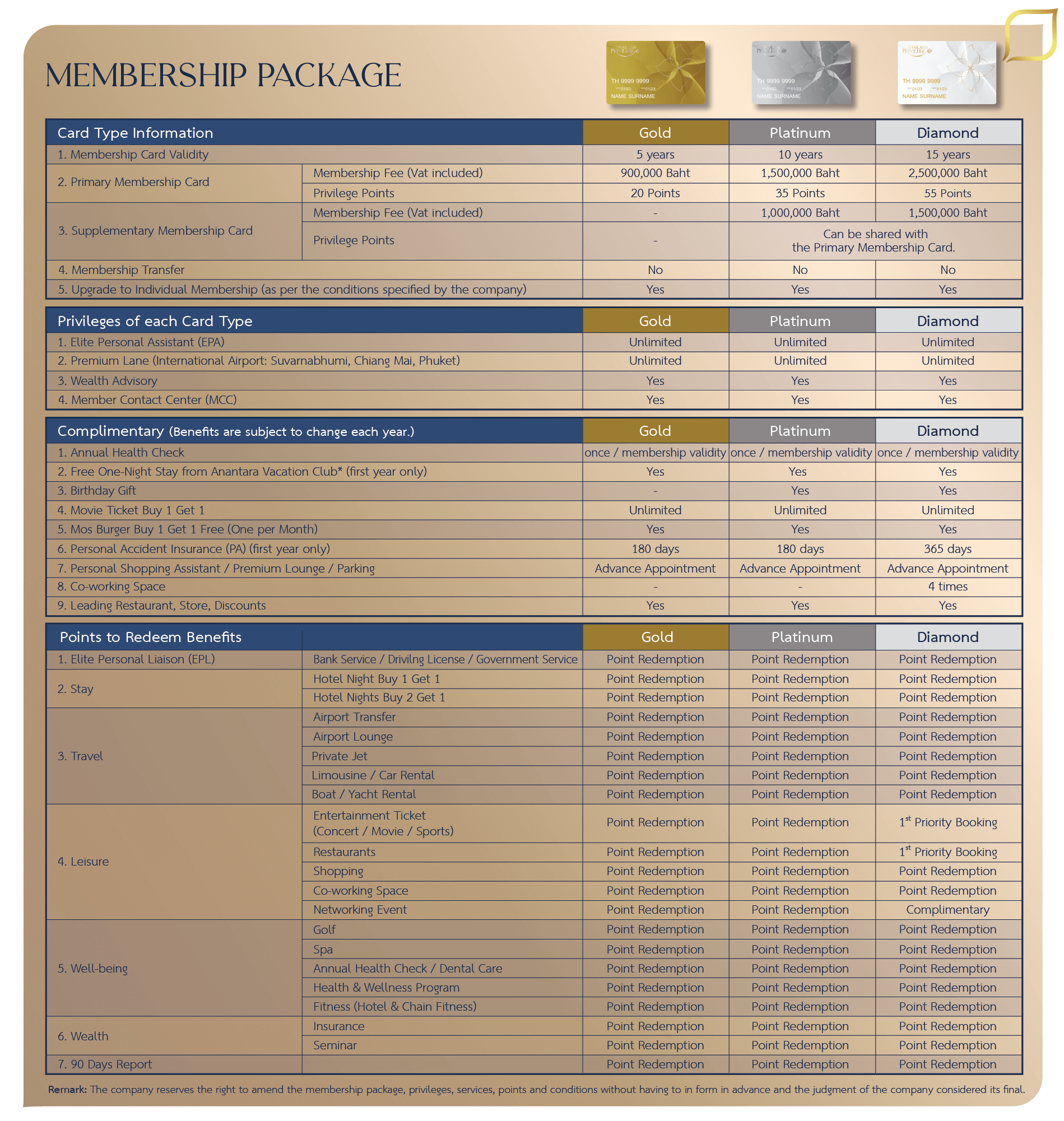 Other Updates:
Visa Privileges: Individuals holding these visa packages are NOT allowed to work in Thailand..
Website Transition: The official website will transition from thailandelite.com to thailandprivilege.com starting September 1. All communications, marketing materials, and official documentation will reflect this change.

Enhanced Visa Processing Times: Thailand Privilege guarantees reduced processing times and faster approvals.
Update for Chinese Nationals: Chinese nationals will no longer need to be routed through Interpol for approval. This implies they can expect shorter waiting times, enhancing their experience with Thailand Privilege.
Education Visa Applicants: Due to rising interest from individuals on Education visas. Thailand Privilege now accepts applications from those with Education visas, provided they can submit official school documents. Thailand Privilege will verify the authenticity of the school and ensure that the applicant genuinely attends the institution in question.
Upgrade of Existing Elite Easy Access to Elite Superiority Extension or Elite Ultimate Privilege:  Thailand Privilege announced that members can now upgrade their Elite Easy Access membership to either the Elite Superiority Extension or Elite Ultimate Privilege. The upgrade will be under the original terms. For a detailed overview, see the video below:
Unsure about these new packages and pricing? Get peace of mind by securing the Elite Visa at its current pricing before it's too late.  Applications are accepted until September 15, 2023 at 4:30 PM (GMT +7).


Time Left for Application Submission
Membership Comparison: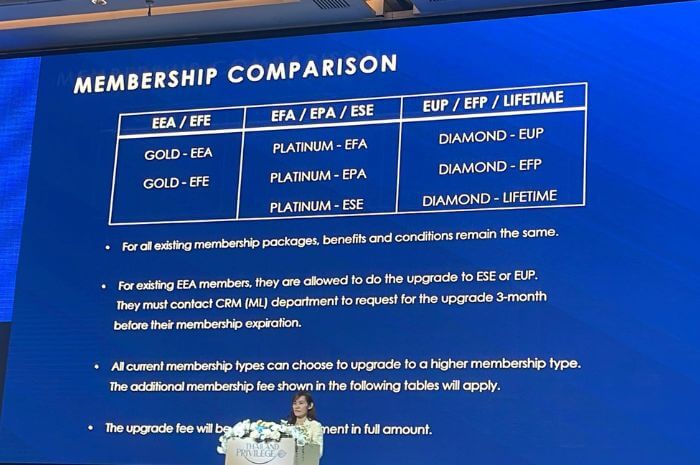 Membership Upgrade For Existing Members
Thailand Privilege Card Co. Ltd. has introduced its membership upgrade for existing members. It is designed to allow each member to upgrade to the new packages. Members are advised to review the terms and conditions below carefully:
* For Elite Easy Access (EEA) Members: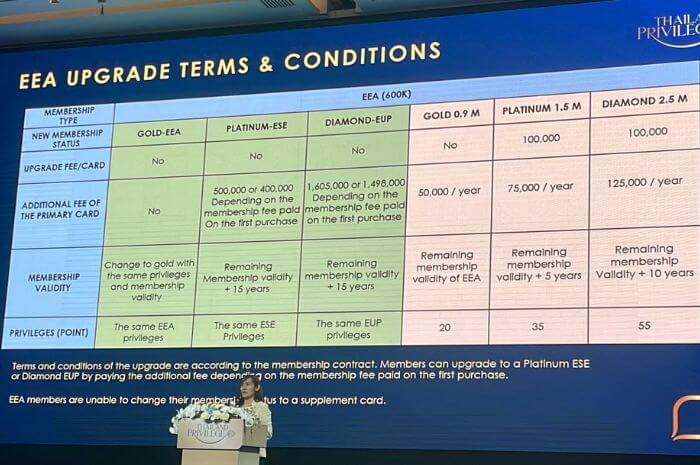 * For Elite Family Excursion (EFE) Members: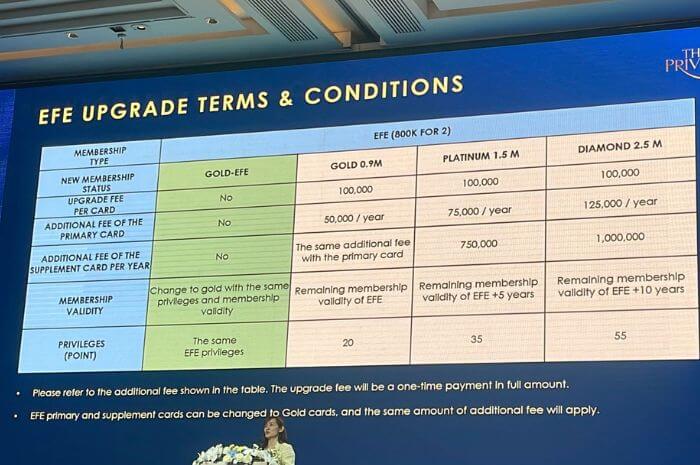 * For Elite Superiority Extension (ESE) Members: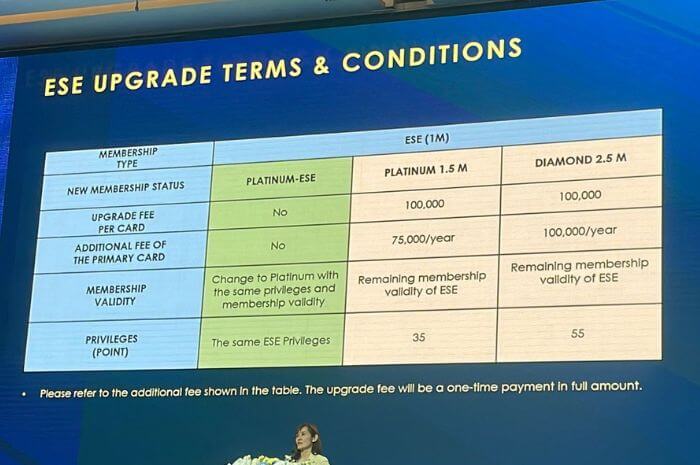 * For Elite Ultimate Privilege (EUP) Members: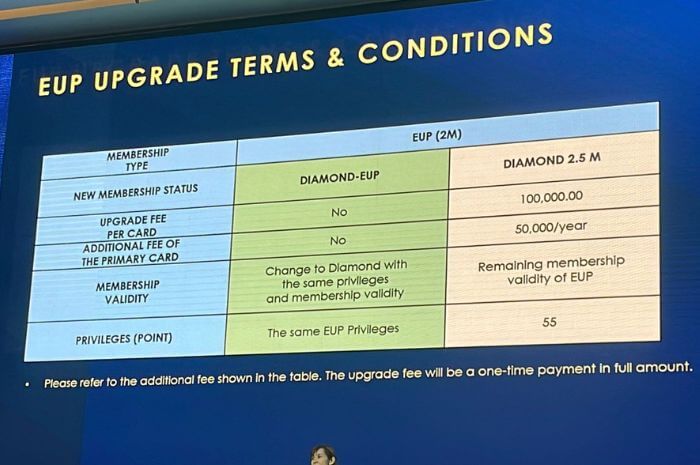 * For Lifetime Members: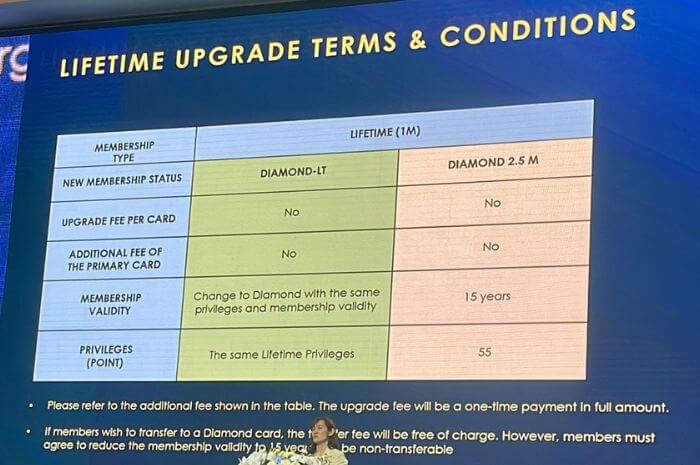 * For existing members who wish to upgrade their membership to "Reserve":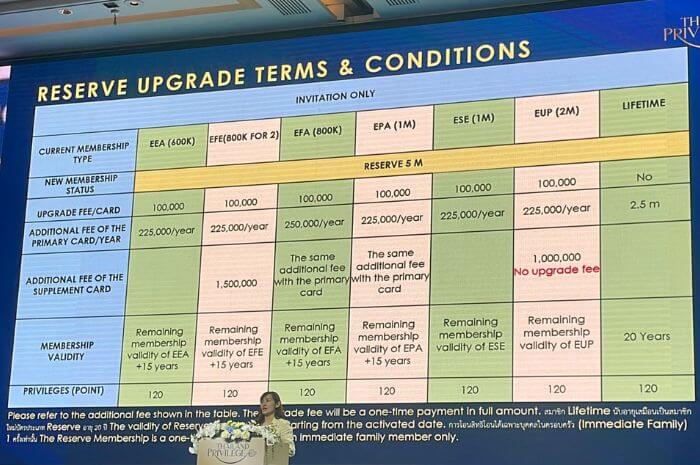 Secure the Elite Visa now at its current pricing before time runs out. Don't miss out! The last day to apply is September 15, 2023.

Time Left for Application Submission
More photos from the event: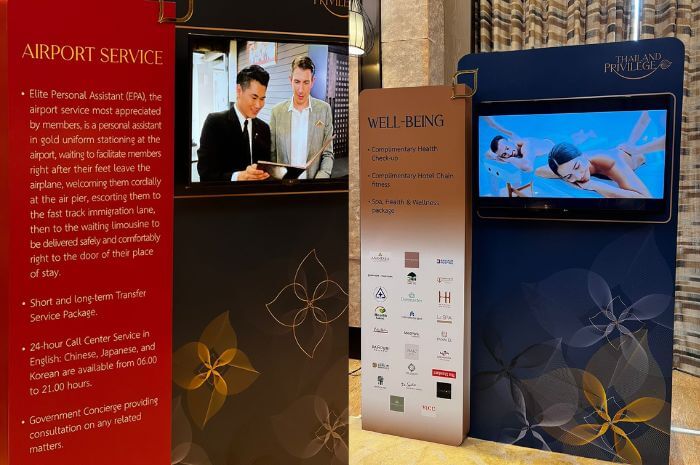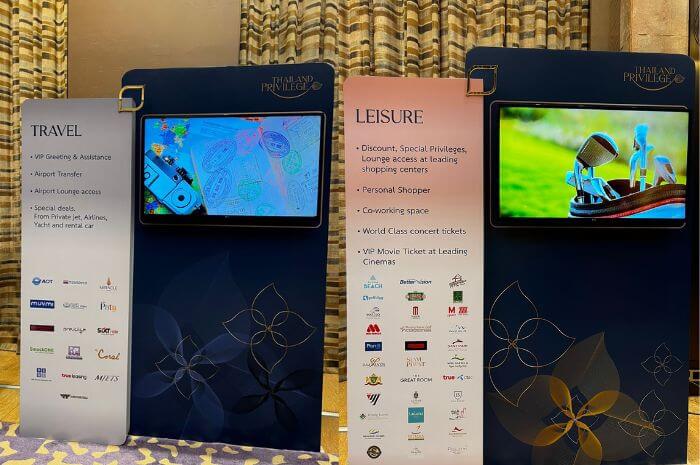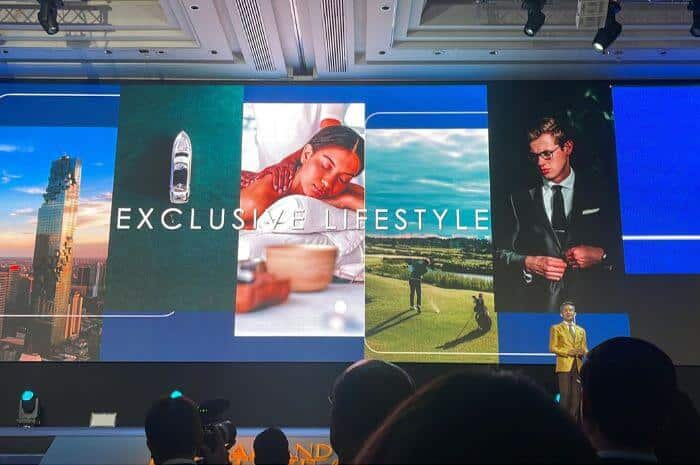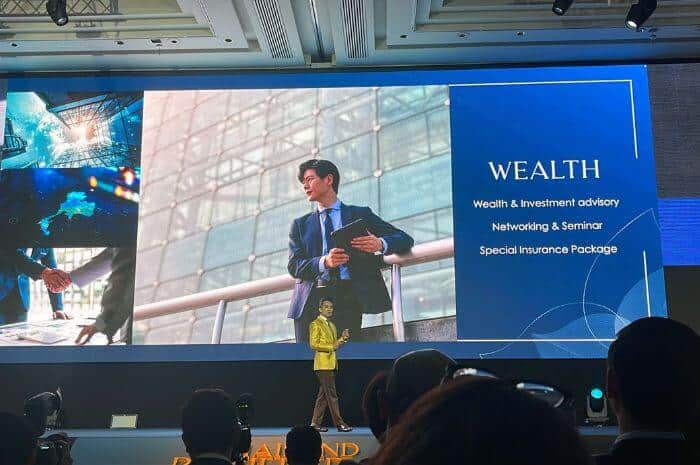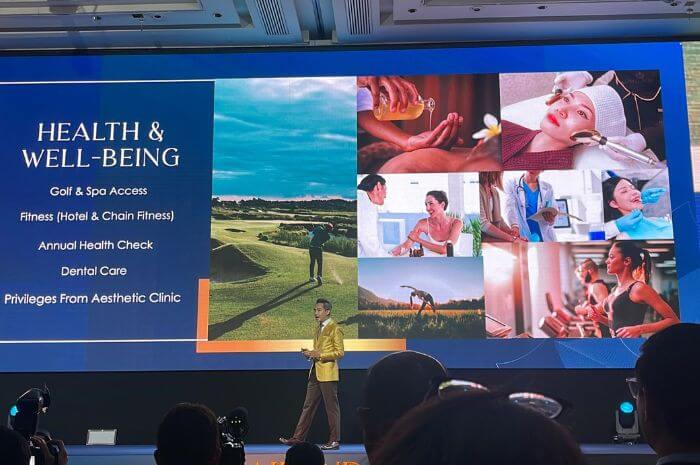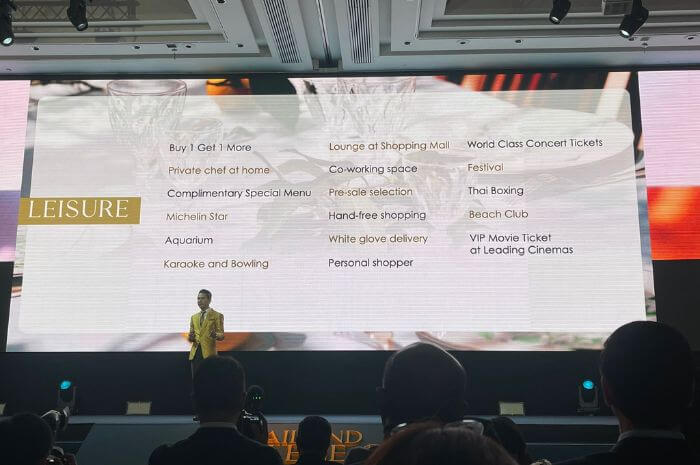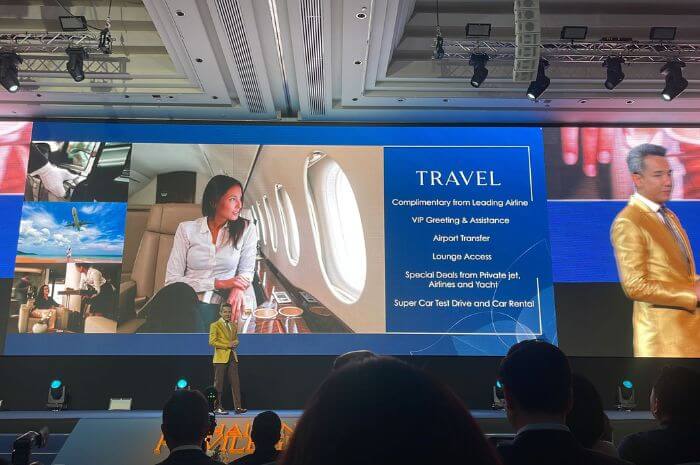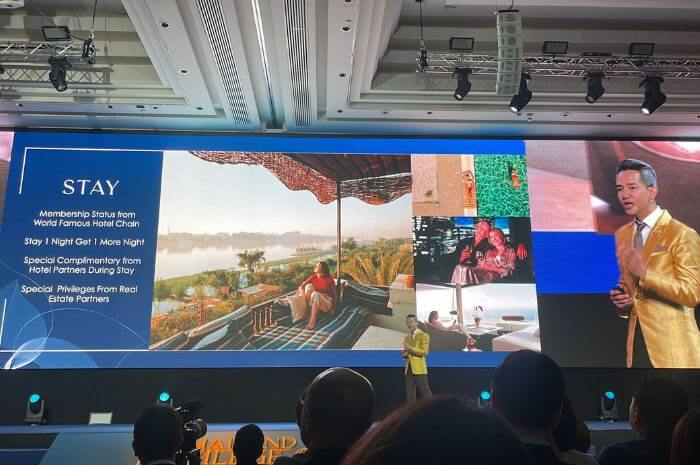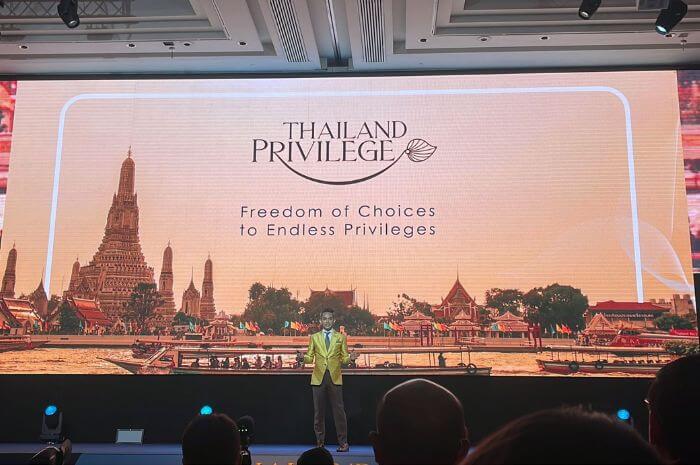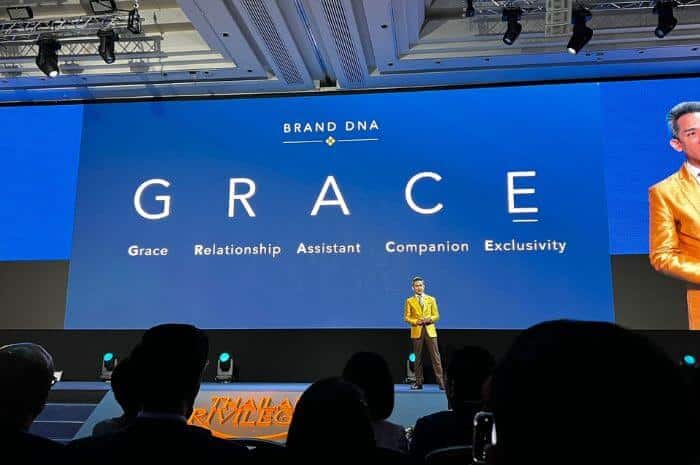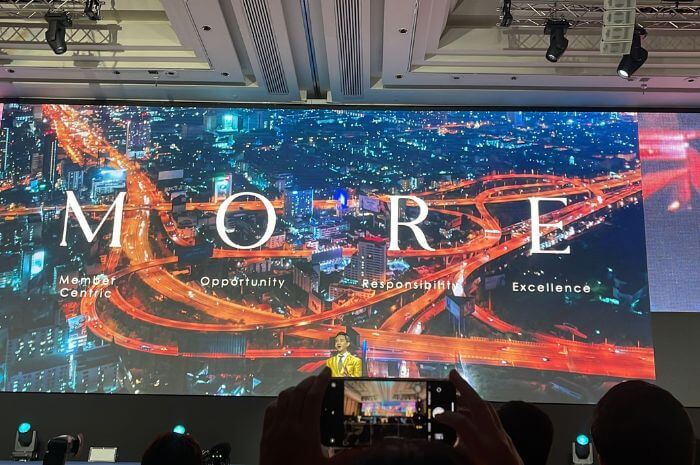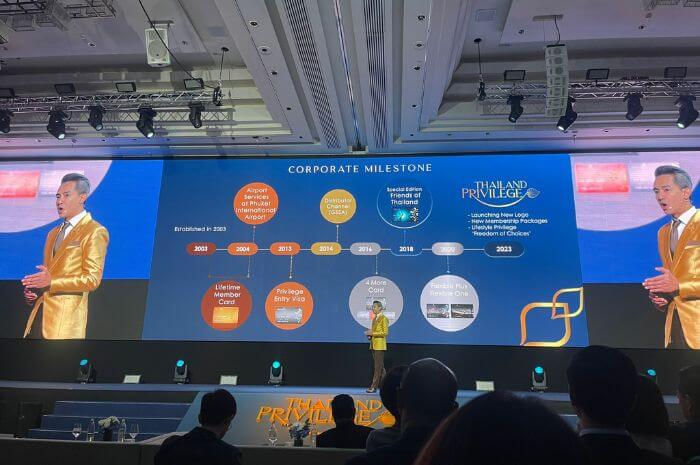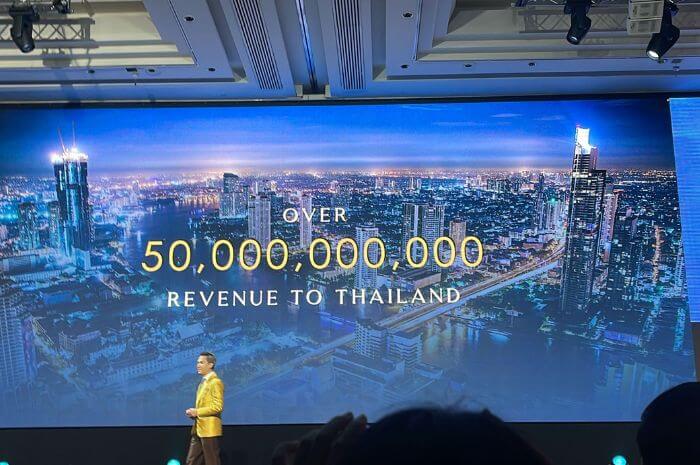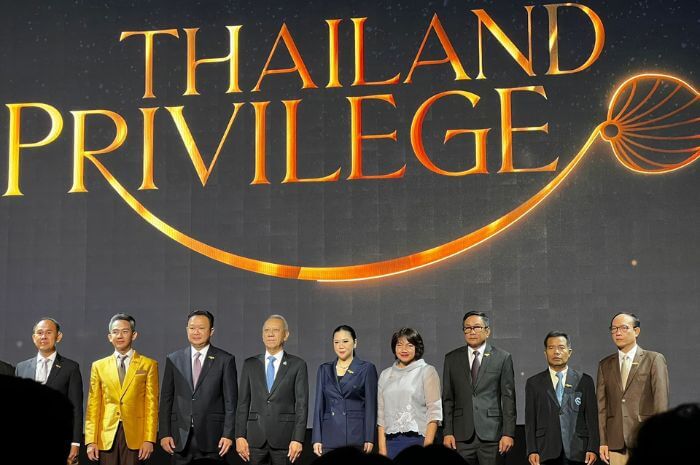 Lock in the Elite Visa at its present price before the opportunity slips away. The deadline for applications is September 15, 2023 at 4:30 PM (GMT +7).
Time Left for Application Submission